Due to some personal circumstances I thought it might be a good idea to post a blogpost about YA books that deal with grief. 
I will list some of the books that deal with grief that have helped me in some way and tell a little something about them. I hope you'll find this useful, and I hope that it might help you in some way. 
This book tells the story of Taylor, whose dad is battling with cancer. They decide to have one last summer together in their old lake house in the Pocono Mountains. 
The story deals with what it's like to see your dad's health getting worse and worse, and what it's like to say goodbye.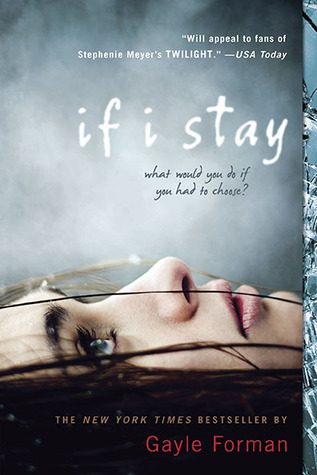 If I Stay by Gayle Forman
This one is pretty popular so I think most of you will know what this book is about.
It deals with the loss of multiple family members and the question if you can live on without them by your side.
                                     The Shock of the Fall by Nathan Filer
This book begins with the scentences 
'I'll tell you what happened because it will be a good way to introduce my brother. His name's Simon. I think you're going to like him. I really do. But in a couple of pages he'll be dead. And he was never the same after that.'
The book deals with the death of a brother and the guilt and mental-health problems that sometimes come with the loss of someone important to you. This book portrayed those mental-health problems beautifully and very realistically. 
A Monster Calls by Patrick Ness
A Monster Calls is one of my favourite books. It deals with grief, loss and feeling 
invisible in such a beautiful and poetic way that makes you unable to put this book down. The illustrations in this book are haunting and beautiful and give a very special vibe to the story. 
(Little warning: you need a lot of tissues while reading this one.)
Love Letters to the Dead by Ava Dellaira
This book is about Laurel learning to deal with the loss of her sister May, trying to forgive her, and slowly trying to accept the truth. 
The book is written in letter-form, with letters to famous dead people. This is kind of a hit or miss for people, but I liked it.