Title: The Winner's Curse
Author: Marie Rutkoski
Pages: 384
Publisher: Farrar, Straus and Giroux 
Published: March 4th, 2014
Genres: YA, Fantasy, Romance

Goodreads Synopsis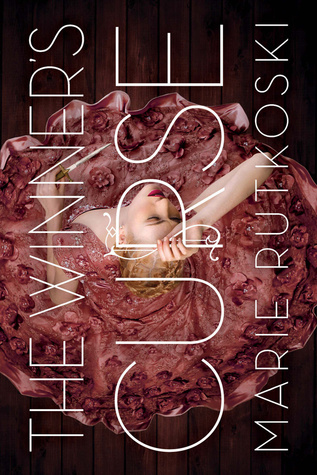 "Winning what you want may cost you everything you love… 

As a general's daughter in a vast empire that revels in war and enslaves those it conquers, seventeen-year-old Kestrel has two choices: she can join the military or get married. But Kestrel has other intentions. 

One day, she is startled to find a kindred spirit in a young slave up for auction. Arin's eyes seem to defy everything and everyone. Following her instinct, Kestrel buys him—with unexpected consequences. It's not long before she has to hide her growing love for Arin. 

But he, too, has a secret, and Kestrel quickly learns that the price she paid for a fellow human is much higher than she ever could have imagined. 

Set in a richly imagined new world, The Winner's Curse by Marie Rutkoski is a story of deadly games where everything is at stake, and the gamble is whether you will keep your head or lose your heart."


My rating: DNF
A few mistakes I made while reading this book:
– I read it during a reading slump
– I had very high expectations because of the cover
This book was a total cover buy for me, because, well, look at that cover! It's gorgeous! I had literally no idea what it was about and that lead me to not being interested in reading it, but the book had been sitting on my shelf for such a long time that I felt obligated to pick it up and read it. I shouldn't have done that. 
The story follows a girl named Kestrel, who is a general's daughter, who ends up going to a slave auction with her best friend Jess by accident. Arin is a slave who is up for auction, and Kestrel buys him on a whim. Kestrel starts to develop feelings for Arin, but little does she know that he (little spoiler) is part of a resistance and is there to gain Kestrel's trust so he can spy on her.
My problems with the book:
1. I didn't care for Kestrel. I had no feelings at all for her, and I hardly remember anything about her except for her name. She just didn't have anything 'special' about her besides her love for music. 
She was also portrayed to be this heroic woman who treated her slaves well, when that wasn't the case. Maybe I missed something, but she didn't really do anything heroic in the book, and the only slave she treated 'well' was Arin. I really hoped that she would realize that all of her other slaves were normal people as well, because of her interaction with Arin, but that wasn't the case. She only noticed one of her slaves a bit more, but that was out of jealousy. 
2. More than not caring about Arin, I didn't like anything about him. He was aggresive, arrogant and overly prideful. And for someone who is supossed to win over Kestrel's trust, he did an awful job, and this made the story very unbelieveable.
3. The relationship between these two just felt wrong. I didn't get why Arin would fall for Kestrel, since he made it very clear that he hated everything she stood for. Her lifestyle, her father, her friends… literally everything. I also didn't get why Kestrel would fall for Arin, since he was such an unlikeable character. It kind of felt like she would fall for any guy that would've come into her life at the moment, or that she just fell for Arin because of her rebellious nature. There was no spark between Arin and Kestrel, no passion, no anything. I just hope it get's better in the next books. 
4. Under-development. The characters and a lot of the ideas in the book felt very under-developed and that might be why I didn't feel a connection to them. While reading the book I really missed a bit of a personality in the characters, and they felt like 'a blank canvas' to me. I also wish we would've gotten more inside on the resistance, because I think that would've been very interesting. 
4.
The plot.
The idea of the plot sounds interesting enough (girl falls in love with her slave but slave turns out to be a spy), but the story itself wasn't that interesting, besides for the parts where they discussed politics. Most of the story was just Kestrel reaching out for Arin, and he'd refuse or accept her attention depending on what he felt like doing. And then suddenly they had feelings for each other, without any build-up at all. 
I honestly can't say the book was awful, because it had a few good aspects to it. The politics were very interesting, and the two different nations were very interesting to read about. I loved that the conquering nation was described as barbaric, and the conquered nation as more civilized, since that is very different from what I normally read. 
Another thing I really liked was the involvement of the arts in the story. Books, music and poetry played a part in the story and I enjoyed that. I loved the scene were Arin asked Kestrel to play something for him on her piano.
I also really liked to read about Kestrel's father. Their relationship wasn't very healthy, but her dad was a very strong and constant character, and I wish we read more about him. 
I think I might try to read this book again after a few months, because I really think this book had a lot of potential and I would've liked it a lot more if I wasn't in a reading slump, but for now I'm not planning on picking up the rest of the series.