Even before I started my blog I knew I wanted to do this tag, because it combines the 2 things I love most: Parks and Recreation and books! And to answer your question; no, I wasn't tagged, but I always do my tags without being tagged. I'm just a bit of a rebel. 
Leslie Knope: A strong female lead character
Meira from the Snow Like Ashes series. She is FIERCE. She fights her own battles, solves her own problems and she's very independent, and I love that about her. 
Ben Wyatt: A character that you can see yourself dating or marrying.
Let's go with another Snow Like Ashes character: Theron. I just loved him from the beginning. He is very polite, sweet and brave. He's also very artistic, and I'm a big sucker for an artistic guy.

The fact that he's a prince works in his favor as well, since the title 'princess' just sounds very good to me. 
Ron Swanson: A character that you didn't think you would end up loving.
Warner from The Shatter Me trilogy. I really didn't like Warner at first, and I thought he was very full of himself and that he acted like he owned Julliete, but at the end of the series I found myself to be completely and utterly in love with Warner. 
 April Ludgate: A grumpy character that is very loveable.
Reagan from Fangirl! When she first appeared in the book I thought she was just a mean girl, but she turned out to be a great and loyal friend. 
Andy Dwyer: A character that seems to get in a lot of trouble.
Definitely Percy Jackson from The Percy Jackson series (duh). It seems like he can't even go to the supermarket without being attacked by some sort of monster or angry god. 
Ann Perkins: A character that you would like as your best friend.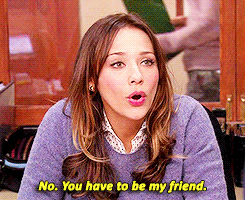 This is such a hard question because there are so many??? I really can't choose so I'll just make a list:
Kenji from the Shatter Me series

Hazel from the Heroes of Olympus series

Neville Longbottom and Luna Lovegood from HP

Iko from the Lunar Chronicles

Maya from the Star-Touched Queen
Gary/Jerry/Larry/Terry Gergich: A book that you don't really care for.
Sadly, this is the Winner's Curse by Marie Rutkoski. If you want to know why, you can read my review here. 
Donna Meagle: A book that was spoiled for you.
There are a lot of books because I, and I am ashamed to say this, often spoil myself. I am one of those people who doesn't like surprises and just wants to know what happens, so I often just google it. It's bad, I know.
When people started talking about what awful thing happened at the end of Allegiant, I really tried to contain myself but I couldn't. I just HAD TO KNOW. So I checked it, and spoiled it for myself. I have no regrets though, since I didn't really like the book anyway. 
Chris Traeger: A character that is dealing with a lot of emotional baggage.
Hmm, this is a hard one because a lot of characters in YA novels have a lot of emotional baggage…
I'm going with Audrey from Finding Audrey because I really liked that book, and I could really identify with her. I'm still dissapointed with the ending of the book though, A BOY CANNOT CURE ANXIETY. Sorry, it just had to be said. 
Tom Haverford: A character that has a lot of SWAG.