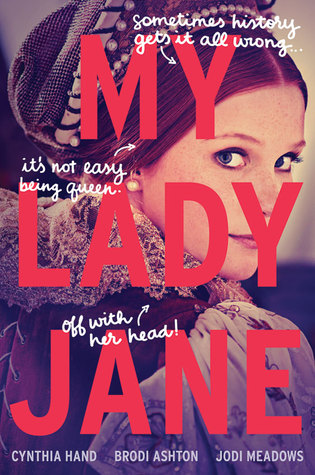 Title: My Lady Jane
Author: Cynthia Hand, Brodi Ashton & Jodi Meadows
Genres: YA, Fantasy, Historical Fiction
Goodreads
'The comical, fantastical, romantical, (not) entirely true story of Lady Jane Grey. In My Lady Jane, coauthors Cynthia Hand, Brodi Ashton, and Jodi Meadows have created a one-of-a-kind fantasy in the tradition of The Princess Bride, featuring a reluctant king, an even more reluctant queen, a noble steed, and only a passing resemblance to actual history—because sometimes history needs a little help.


At sixteen, Lady Jane Grey is about to be married off to a stranger and caught up in a conspiracy to rob her cousin, King Edward, of his throne. But those trifling problems aren't for Jane to worry about. Jane gets to be Queen of England.'
My Thoughts 
"Your majesty, please reconsider," Lord Dudley pleaded. "Your position will be much stronger with your husband as king. The people will see it as a sign of strength – "
She took a deep breath. "They need signs of my strength, not my reliance on the men around me"
I am not sure how to write this review, other than by screaming YOU NEED TO READ THIS at you repeatedly, but My Lady Jane is just so good! It's empowering, has some amazing characters, and is laugh-out-loud funny. And, YOU NEED TO READ THIS!
My Lady Jane follows, well, Lady Jane (how obvious). You know, the girl who was the Queen of England for just a few days before losing her head? Yeah, her. But this time, her story is a bit different. And less sad.
My Lady Jane is set in an England where, instead of the divide between the Protestants and Catholics, there's a divide between Verities and 
Eðians. The latter are people who have the power to shapeshift into an animal, and the former basically thinks they're scum. It's written in three POVs, that of Lady Jane herself, that of Gifford (who I can't tell you a lot about without spoiling you, but let me just say that he's very very swoon-worthy) and that of Jane's cousin, King Edward. Oh, and did I mention that Lady Jane is one of the biggest bookworms I've ever read about? Yes, it's great. And it made me fall in love with her from the very start. She's basically a 16th century Hermione.
I don't want to tell you a lot about the story itself, because it's a lot more fun to go into it without really knowing what's going to happen, but I have to warn you: you have to be in the right mood to read this. If you want to read an amazingly thrilling fantasy, or a dramatic historical-retelling, you shouldn't pick this one up. Pick it up when you're in the mood for something entertaining, light, and something funny.
With that said,
this book is great!
 Again, YOU NEED TO READ THIS! Other than being hilarious, mocking sexist behavior with sentences like
"
She was a woman who wore pants. She couldn't be trusted." 
and literally screaming GIRL POWER,
it has an amazing plot full of secrets, betrayal and royal-craziness.