Diversity Spotlight Thurday is a weekly meme hosted by the lovely Aimal from Bookshelves and Paperbacks. Every week, you come up with one book fitting three different categories: a diverse book you've read and enjoyed, a diverse book on your TBR, and a diverse book that has not been released yet. 
The Rest of Us Just Live Here by Patrick Ness
What if you aren't the Chosen One?The one who's supposed to fight the zombies, or the soul-eating ghosts, or whatever the heck this new thing is, with the blue lights and the death?What if you're like Mikey? Who just wants to graduate and go to prom and maybe finally work up the courage to ask Henna out before someone goes and blows up the high school. Again.Because sometimes there are problems bigger than this week's end of the world, and sometimes you just have to find the extraordinary in your ordinary life.Even if your best friend is worshipped by mountain lions.Award-winning writer Patrick Ness's bold and irreverent novel powerfully reminds us that there are many different types of remarkable.
Even though The Rest of Us Just Live Here is probably the lowest rated YA Patrick Ness book on Goodreads, it's probably my most loved one. The plot might not be the greatest, but the characters definitely are! The entire cast of characters is incredibly diverse, and I loved every single one of them.
Iron Cast by Destiny Soria
In 1919, Ada Navarra—the intrepid daughter of immigrants—and Corinne Wells—a spunky, devil-may-care heiress—make an unlikely pair. But at the Cast Iron nightclub in Boston, anything and everything is possible. At night, on stage together, the two best friends, whose "afflicted" blood gives them the ability to create illusions through art, weave magic under the employ of Johnny Dervish, the club's owner and a notorious gangster. By day, Ada and Corinne use these same skills to con the city's elite in an attempt to keep the club afloat.When a "job" goes awry and Ada is imprisoned, she realizes they're on the precipice of danger. Only Corinne—her partner in crime—can break her out of Haversham Asylum. But once Ada is out, they face betrayal at every turn.
Iron Cast is one of the books that are on my #DiversityDecBingo TBR! I haven't read a lot of historical fiction yet, and I haven't been a huge fan of what I did read, but I'm excited to give this one a go anyway.
Our Own Private Universe by Robin Talley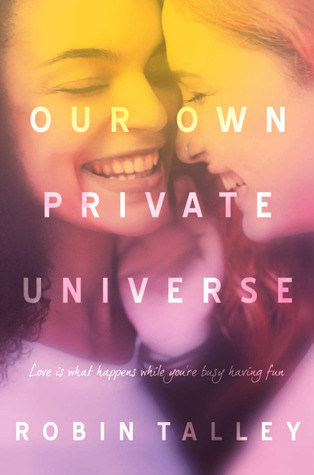 Fifteen-year-old Aki Hunter knows she's bisexual, but up until now she's only dated guys—and her best friend, Lori, is the only person she's out to. When she and Lori set off on a four-week youth-group mission trip in a small Mexican town, it never crosses Aki's mind that there might be anyone in the group she'd be interested in dating. But that all goes out the window when Aki meets Christa.
I was extremely excited about this book when I first heard of it. The synopsis sounds great, the cover is gorgeous, and I've been wanting to read more books with bi MCs. Then there were some things said on Twitter, which made me erase this one from my TBR, but in the end, put it back on there. (I don't feel like going into it in this post.)
However, the things that happened have made me a bit more hesistant in picking this one up, so I think I'll wait and read some reviews before I pick it up.