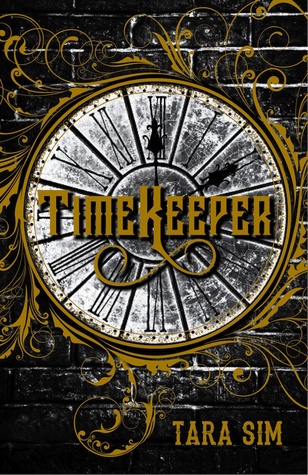 Title: Timekeeper
Series: Timekeeper #1
Author: Tara Sim
Genres: YA, Fantasy
Goodreads
Two o'clock was missing.

In an alternate Victorian world controlled by clock towers, a damaged clock can fracture time—and a destroyed one can stop it completely.
It's a truth that seventeen-year-old clock mechanic Danny Hart knows all too well; his father has been trapped in a Stopped town east of London for three years. Though Danny is a prodigy who can repair not only clockwork, but the very fabric of time, his fixation with staging a rescue is quickly becoming a concern to his superiors.
And so they assign him to Enfield, a town where the tower seems to be forever plagued with problems. Danny's new apprentice both annoys and intrigues him, and though the boy is eager to work, he maintains a secretive distance. Danny soon discovers why: he is the tower's clock spirit, a mythical being that oversees Enfield's time. Though the boys are drawn together by their loneliness, Danny knows falling in love with a clock spirit is forbidden, and means risking everything he's fought to achieve.
But when a series of bombings at nearby towers threaten to Stop more cities, Danny must race to prevent Enfield from becoming the next target or he'll not only lose his father, but the boy he loves, forever.
Timekeeper wasn't really on my radar until I saw it on Netgalley, and the synopsis immediately swayed me. And yes, I did get a copy of this book from Netgalley in exchange for an honest review.
Timekeeper went from not being on my radar, to being one of my favorite books of 2016. 
First of all, I want to talk to you about the characters in the book, because they were AMAZING. I adored every single one of them. They were all very three-dimensional, and almost every character had a backstory, which is something I really enjoy. Also, all of the characters were very morally grey, and that was very interesting. I personally wasn't sure whether I should like a certain character or not, but I have a feeling that this was the point. Most authors write a character with the intention of making them likeable or unlikeable, but it felt like Tara Sim didn't have this intention. She wrote the characters the way they are, and that made them feel human. 
I quite liked the writing in general. But, if I'm honest, the writing is what kept me from giving the book the full 5 stars. Some passages were just, well, boring. Don't get me wrong, I was still enjoying the characters and the writing itself, but nothing was happening. However, even during these boring scenes, I was still at the edge of my seat, because I had no way of predicting what was going to happen. It was great. I also loved how the author wove the Gaian gods and their stories into her own story, because it gave the book a whole extra dimension.
Now, let's talk about the relationship between Danny and Colton, the clock spirit, because it was great! It was a very well-written romance, and I loved how Danny essentially showed Colton the world. And how Colton showed Danny his world. It was great. The first time they meet Danny is feeling extremely anxious, because this is his first time fixing a clock after his accident, and Colton helps him by distracting Danny and letting Danny tell him a story. It was, in my opinion, one of the greatest scenes in the books. I loved it so much. 
Lastly, I really like how this book wrapped up. That's why I feel so weird about this being the first book in a series. It'd make such a great standalone. I'm still conflicted about whether I want to pick up the next book or not, because I loved this one, but everything is okay now, and I don't want things to go wrong again. But I guess we'll see. 
Just, please, pick this book up. You won't regret it.