Diversity Spotlight Thurday is a weekly meme hosted by the lovely Aimal from Bookshelves and Paperbacks. Every week, you come up with one book fitting three different categories: a diverse book you've read and enjoyed, a diverse book on your TBR, and a diverse book that has not been released yet.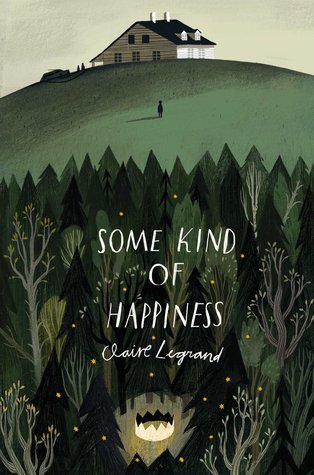 Some Kind of Happiness by Claire Legrand
THINGS FINLEY HART DOESN'T WANT TO TALK ABOUT

• Her parents, who are having problems. (But they pretend like they're not.)
• Being sent to her grandparents' house for the summer.
• Never having met said grandparents.
• Her blue days—when life feels overwhelming, and it's hard to keep her head up. (This happens a lot.)

Finley's only retreat is the Everwood, a forest kingdom that exists in the pages of her notebook. Until she discovers the endless woods behind her grandparents' house and realizes the Everwood is real–and holds more mysteries than she'd ever imagined, including a family of pirates that she isn't allowed to talk to, trees covered in ash, and a strange old wizard living in a house made of bones.

With the help of her cousins, Finley sets out on a mission to save the dying Everwood and uncover its secrets. But as the mysteries pile up and the frightening sadness inside her grows, Finley realizes that if she wants to save the Everwood, she'll first have to save herself.

Reality and fantasy collide in this powerful, heartfelt novel about family, depression, and the power of imagination.
I've already gushed a lot about this book since I've read it, and I just can't stop. Some Kind of Happiness tells such a beautiful story, and is such a honest and real portrayal of depression and anxiety. I loved this book so, so much and that's exactly why I keep talking about it. So that you might pick it up, and fall in love with it yourself.
Tell Me Again How a Crush Should Feel by Sara Farizan
High-school junior Leila has made it most of the way through Armstead Academy without having a crush on anyone, which is something of a relief. Her Persian heritage already makes her different from her classmates; if word got out that she liked girls, life would be twice as hard. But when a sophisticated, beautiful new girl, Saskia, shows up, Leila starts to take risks she never thought she would, especially when it looks as if the attraction between them is mutual. Struggling to sort out her growing feelings and Saskia's confusing signals, Leila confides in her old friend, Lisa, and grows closer to her fellow drama tech-crew members, especially Tomas, whose comments about his own sexuality are frank, funny, wise, and sometimes painful. Gradually, Leila begins to see that almost all her classmates are more complicated than they first appear to be, and many are keeping fascinating secrets of their own.
I received this book from my lovely friend Femke for Christmas and I'm so excited to pick it up! Besides loving the cover, I've been wanting to pick up more cute f/f romances, and this book seems to be just that.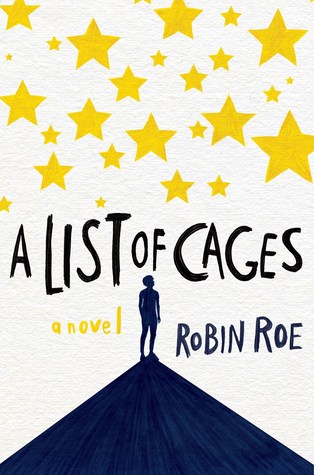 A List of Cages by Robin Roe
When Adam Blake lands the best elective ever in his senior year, serving as an aide to the school psychologist, he thinks he's got it made. Sure, it means a lot of sitting around, which isn't easy for a guy with ADHD, but he can't complain, since he gets to spend the period texting all his friends. Then the doctor asks him to track down the troubled freshman who keeps dodging her, and Adam discovers that the boy is Julian–the foster brother he hasn't seen in five years.

Adam is ecstatic to be reunited. At first, Julian seems like the boy he once knew. He's still kind hearted. He still writes stories and loves picture books meant for little kids. But as they spend more time together, Adam realizes that Julian is keeping secrets, like where he hides during the middle of the day, and what's really going on inside his house. Adam is determined to help him, but his involvement could cost both boys their lives.
I'm extremely excited about A List of Cages by Robin Roe because it has a main character who has ADHD, and I've never read about that before. A few people really close to me have ADHD, so I'm very interested to see what it's like for them. What's going on inside their head. I really hope this book will give me just that.
Besides this, A List of Cages sounds like it's going to be a beautiful but heart-wrenching story, and I can't wait to pick it up.