Diversity Spotlight Thurday is a weekly meme hosted by the lovely Aimal from Bookshelves and Paperbacks. Every week, you come up with one book fitting three different categories: a diverse book you've read and enjoyed, a diverse book on your TBR, and a diverse book that has not been released yet.

If the Dress Fits by Carla de Guzman
Martha Aguas kind of has it all–she's an accountant who loves numbers, an accident-prone puppy that loves her, and the perfect wardrobe.

Yes, she wears a dress size 24, her bras don't fit and she's never had a boyfriend, but so what?

It becomes a big deal when her perfect cousin Regina announces her engagement to Enzo, the only boy she's ever loved (he doesn't know, so don't tell him!) Suddenly Aguases from all corners of the globe are coming for the event, and the last thing Martha wants is to be asked why she still prefers her lattes with a waffle on the side.

Thank god for Max. Goofy, funny, dependable Max, who finds himself playing the fake boyfriend at the family festivities. But why does it feel like only one of them is pretending?
I finished this book yesterday and I can't stop thinking about how much I loved it. I loved reading about a fat girl loving herself, and getting the hot (veterinarian!!) guy. I loved the cultural aspects this book featured, and I loved al the tasty Filipino food it mentioned. I also loved the family aspects, and well, I loved everything.
On The Edge of Gone by Corinne Duyvis
January 29, 2035.

That's the day the comet is scheduled to hit—the big one. Denise and her mother and sister, Iris, have been assigned to a temporary shelter near their hometown of Amsterdam to wait out the blast, but Iris is nowhere to be found, and at the rate Denise's drug-addicted mother is going, they'll never reach the shelter in time.

Then a last-minute encounter leads them to something better than a temporary shelter: a generation ship that's scheduled to leave Earth behind and colonize new worlds after the comet hits. But each passenger must have a practical skill to contribute. Denise is autistic and fears that she'll never be allowed to stay. Can she obtain a spot before the ship takes flight? What about her mother and sister?

When the future of the human race is at stake, whose lives matter most?
It's been a while since I've read a dystopian, but when I spotted this one, I knew I had to read it. And yes, it might have something to do with the space ship.
On the Edge of Gone is also an #OwnVoices book featuring an autistic main character, which is something I'm incredibly excited to read about. And the book is written by a fellow Dutchie, so what's not to love?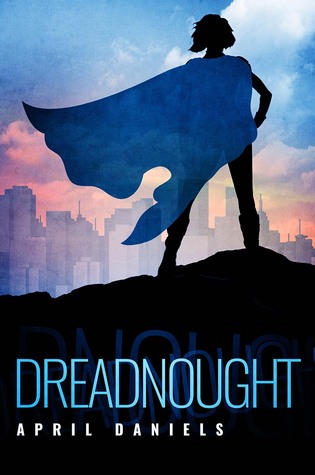 Dreadnought by April Daniels
Danny Tozer has a problem: she just inherited the powers of the world's greatest superhero. Until Dreadnought fell out of the sky and died right in front of her, she was trying to keep people from finding out she's transgender. But then her second-hand superpowers transformed her body into what she's always thought it should be. Now there's no hiding that she's a girl.

It should be the happiest time of her life, but between her father's dangerous obsession with curing her girlhood, her best friend suddenly acting like he's entitled to date her, and the classmate who is secretly a masked vigilante, Danny's first weeks living in a body that fits her are more difficult and complicated than she could have imagined.

She doesn't have much time to adjust. Dreadnought's murderer, a cyborg named Utopia, still haunts the streets of New Port City. If Danny can't sort through the confusion of coming out, master her powers, and stop Utopia in time, humanity faces extinction.
I am so excited about Dreadnought! I don't read enough books with trans main characters, and I've never read a superhero book before, and I'm excited to change that!
Have you read any of these books, and what did you think?