Diversity Spotlight Thursday is a weekly meme hosted by the lovely Aimal from Bookshelves and Paperbacks. Every week, you come up with three book fitting three different categories: a diverse book you've read and enjoyed, a diverse book on your TBR, and a diverse book that has not been released yet.
The Forbidden Wish by Jessica Khoury
She is the most powerful Jinni of all. He is a boy from the streets. Their love will shake the world…

When Aladdin discovers Zahra's jinni lamp, Zahra is thrust back into a world she hasn't seen in hundreds of years—a world where magic is forbidden and Zahra's very existence is illegal. She must disguise herself to stay alive, using ancient shape-shifting magic, until her new master has selected his three wishes.

But when the King of the Jinn offers Zahra a chance to be free of her lamp forever, she seizes the opportunity—only to discover she is falling in love with Aladdin. When saving herself means betraying him, Zahra must decide once and for all: is winning her freedom worth losing her heart?

As time unravels and her enemies close in, Zahra finds herself suspended between danger and desire in this dazzling retelling of Aladdin from acclaimed author Jessica Khoury
I received The Forbidden Wish by Jessica Khoury in a Fairyloot box once, and it spend almost a year sitting on my TBR. When I finally picked it up, I kind of hated myself for not picking it up sooner.
The Forbidden Wish is an Aladdin retelling which puts the original to shame. It has great characters, a very interesting world and a great romance, and it's certainly one I'd recommend.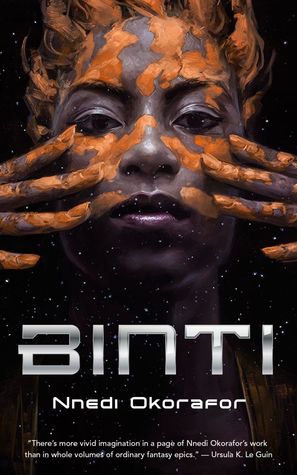 Binti by Nnedi Okorafor
Her name is Binti, and she is the first of the Himba people ever to be offered a place at Oomza University, the finest institution of higher learning in the galaxy. But to accept the offer will mean giving up her place in her family to travel between the stars among strangers who do not share her ways or respect her customs.

Knowledge comes at a cost, one that Binti is willing to pay, but her journey will not be easy. The world she seeks to enter has long warred with the Meduse, an alien race that has become the stuff of nightmares. Oomza University has wronged the Meduse, and Binti's stellar travel will bring her within their deadly reach.

If Binti hopes to survive the legacy of a war not of her making, she will need both the gifts of her people and the wisdom enshrined within the University, itself – but first she has to make it there, alive.
Binti was my very first ebook purchase when I got my Kindle. I have heard so many amazing things about it that I just couldn't resist it, even though I was kind of on a book buying ban. I'm definitely planning to pick this one up, once I finish the 5 books I'm reading now. And no, I'm not kidding about reading 5 books.
The Gauntlet by Karuna Riazi
A trio of friends from New York City find themselves trapped inside a mechanical board game that they must dismantle in order to save themselves and generations of other children in this action-packed debut that's a steampunk Jumanji with a Middle Eastern flair.

When twelve-year-old Farah and her two best friends get sucked into a mechanical board game called The Gauntlet of Blood and Sand—a puzzle game akin to a large Rubik's cube—they know it's up to them to defeat the game's diabolical architect in order to save themselves and those who are trapped inside, including her baby brother Ahmed. But first they have to figure out how.

Under the tutelage of a lizard guide named Henrietta Peel and an aeronaut Vijay, the Farah and her friends battle camel spiders, red scorpions, grease monkeys, and sand cats as they prepare to face off with the maniacal Lord Amari, the man behind the machine. Can they defeat Amari at his own game…or will they, like the children who came before them, become cogs in the machine?
I don't think I can tell you how incredibly excited I am to get my hands on The Gauntlet. It's one of my most anticipated 2017 releases, and I'm so happy that the wait for this book is almost over because I really can't wait any longer.
The premise of this book sounds amazing, the cover is beautiful, and Karuna Riazi is such an incredible person and I can't wait to read her work. (Also, if you're not following her on Twitter yet, you're missing out).