Waiting on Wednesday is a weekly meme that is hosted by Breaking the Spine, that spotlights upcoming releases that we're eagerly anticipating.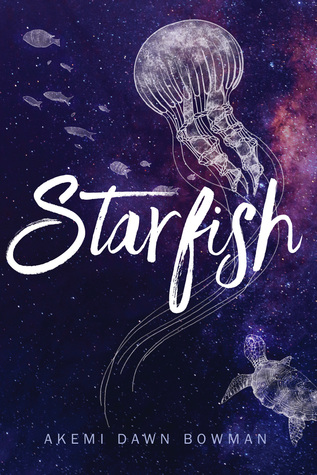 Title: Starfish
Author:  Akemi Dawn Bowman
Publication date: September 26th, 2017
Goodreads
Kiko Himura has always had a hard time saying exactly what she's thinking. With a mother who makes her feel unremarkable and a half-Japanese heritage she doesn't quite understand, Kiko prefers to keep her head down, certain that once she makes it into her dream art school, Prism, her real life will begin.

But then Kiko doesn't get into Prism, at the same time her abusive uncle moves back in with her family. So when she receives an invitation from her childhood friend to leave her small town and tour art schools on the west coast, Kiko jumps at the opportunity in spite of the anxieties and fears that attempt to hold her back. And now that she is finally free to be her own person outside the constricting walls of her home life, Kiko learns life-changing truths about herself, her past, and how to be brave.

From debut author Akemi Dawn Bowman comes a luminous, heartbreaking story of identity, family, and the beauty that emerges when we embrace our true selves.
First of all, let's look at that cover. I just can't stop looking at it. That gorgeous starry background, those gorgeous illustrations, and that font! I am the human equivalent of the heart-eyes emoji right now. This might be my favorite cover of the year.
When I finally moved past the cover and started reading the synopsis, I immediately knew one thing for sure: this book is going to make me cry. Granted, almost all of the books I read make me cry, but this one is going to break my heart in thousands of little pieces and make me cry. I'm not sure why I think this. There are a lot of sad things mentioned in the synopsis (not getting into dream school, an abusive uncle), but nothing that screams I'M GOING TO RIP YOUR HEART OUT. But I'm quite sure it will.
Anyway, this book has many things I love like the cover, the art, self discovery, and it even has a roadtrip feel  to it, so I can't wait to get my hands on this one. It'll get a very prominent place on my bookshelf, so I can stare at it forever.
Twitter • Instagram •  Goodreads