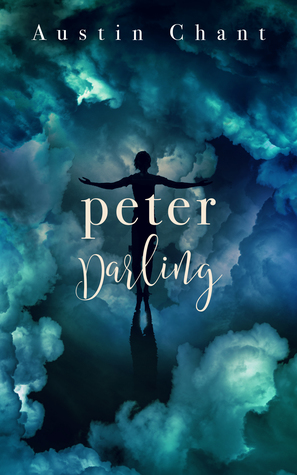 Title: Peter Darling
Author: Austin Chant
Genres: Fantasy, Romance, Retellings
Goodreads
Ten years ago, Peter Pan left Neverland to grow up, leaving behind his adolescent dreams of boyhood and resigning himself to life as Wendy Darling. Growing up, however, has only made him realize how inescapable his identity as a man is.

But when he returns to Neverland, everything has changed: the Lost Boys have become men, and the war games they once played are now real and deadly. Even more shocking is the attraction Peter never knew he could feel for his old rival, Captain Hook—and the realization that he no longer knows which of them is the real villain.
As soon as I saw Peter Darling on Netgalley and read the synopsis, I knew I had to read it. I was always a big fan of the Peter Pan Disney movie (I've never read the actual book though), so that + LGBT+ themes sounded perfect to me. I'd also heard great things about Austin Chant's writing before, so I was over the moon when I got accepted.
Peter Darling didn't disappoint. I loved the way Austin Chant changed Neverland: not too much, so it was still recognizable, but it felt a bit darker. More mysterious. The descriptions of the island were lush and magnificent, and made me feel like I was there. Chant also put a very unexpected psychological spin on Neverland that made it even better.
The characters were great as well. I loved the fact that, even though they were entirely different from the Disney version of Peter pan, Peter, Hook and Tinkerbell still felt very familiar. Peter was still that mischievous guy that was always in for a good fight, Hook was still quite vain and cruel, and Tinkerbell was still very brave, but they all had so much more than that. The characters got so many extra added dimensions to them, and it was great. They were all very morally grey as well, which is my favorite kind of character.
I also loved the chemistry between Hook and Pan. I love the enemies-to-lovers trope, and Peter Darling had very much of that. There were certain scenes in a cave where there was a lot of tension between them, and I loved every single second of it. The ending made me love Pan and Hook even more, and the ending was perfect in itself.
Peter Darling was everything I wanted of a Peter Pan retelling, and more. I'd totally recommend it, and I can't wait to pick up more of Austin Chant's work. Coffee Boy is currently on top of my TBR!
Twitter • Instagram •  Goodreads