Diversity Spotlight Thursday is a weekly meme hosted by the lovely Aimal from Bookshelves and Paperbacks. Every week, you come up with three book fitting three different categories: a diverse book you've read and enjoyed, a diverse book on your TBR, and a diverse book that has not been released yet.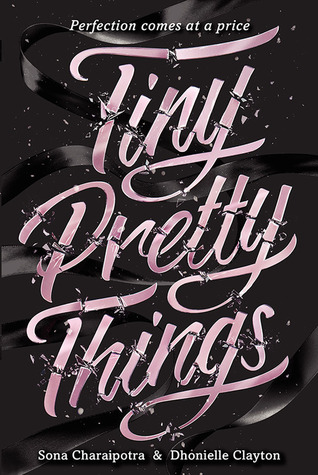 Tiny Pretty Things by Dhonielle Clayton and Sona Charaipotra
Gigi, Bette, and June, three top students at an exclusive Manhattan ballet school, have seen their fair share of drama. Free-spirited new girl Gigi just wants to dance—but the very act might kill her. Privileged New Yorker Bette's desire to escape the shadow of her ballet star sister brings out a dangerous edge in her. And perfectionist June needs to land a lead role this year or her controlling mother will put an end to her dancing dreams forever. When every dancer is both friend and foe, the girls will sacrifice, manipulate, and backstab to be the best of the best.
I just looked through my shelves trying to find the perfect books for this week's Diversity Spotlight Thursday and I realized that I hadn't even reviewed this book yet. I need to get to that soon!
Anyway, I LOVED Tiny Pretty Things. I usually never go for books with multiple POV but in this book it just works. I loved the rivalry between the students, which was incredibly entertaining but got so incredibly dark sometimes, but I most of all loved the characters. They all felt incredibly real, and even though some were incredibly shitty, I couldn't help but love them. And Gigi is definitely my new book girlfriend.
Beginner's Guide: Love and Other Chemical Reactions by Six de los Reyes
Falling in love is a chemical reaction.

Just ask Kaya Rubio, twenty-five year-old Molecular Genetics graduate student and research assistant. Fed up with her spinster aunts' relentless reminders and unsolicited advice regarding her Single Since Birth status, she designs a scientific, evidence-based methodology to find her a suitable partner in time for her cousin's wedding. As any good scientist knows, any valid experimental design requires a negative control. Enter the most unsuitable candidate for a potential boyfriend: the messy, easygoing, café owner Nero Sison. Her null hypothesis? Going out with Nero would establish her baseline data without catalyzing the chemical reaction she seeks.

But when Kaya's recorded results refuse to make sense, she is forced to come to the conclusion that there are some things in life that are simply, by nature, irrational and illogical. And that sometimes, chemistry doesn't always happen inside a lab.
Can I go one week without mentioning a #romanceclass book? Eh, probably not.
Beginner's Guide has a female scientist as a main character and I love that! I don't see enough scientist ladies in books. I've heard nothing but great things about this one, so I can't wait to finally pick it up soon.
The Paths We Choose by Maria Hollis
Lily Ferrari enjoys having control over every detail of her life. Ever since she left her parents' house to gain her freedom, she decided to fully own her autonomy. But an unexpected visit from her little brother may change the path she chooses to follow.
Add to that a casual fling with the bright architect Mayte González, and Lily's summer is turning out more interesting than she expected. It certainly beats the routine of working extra shifts at Johnson's Bookstore.
A few weeks before her college life begins, Lily needs to figure out if she's wrong about the past or if she should continue to protect her heart at all costs.

Sometimes moving forward is only possible if you have the right people by your side.
THE PATHS WE CHOOSE IS RELEASING SOON SOS. I read an ARC of this a few weeks ago after loving the first book in this series, The Melody of You and Me, and I loved it so much! It has amazing female friendships, an adorable f/f relationship, sex-positivity, an incredible main character and great scenes with a younger brother that made me cry. You should all pick this up. Seriously. If you're not convinced yet, check out my review here.