Diversity Spotlight Thursday is a weekly meme hosted by the lovely Aimal from Bookshelves and Paperbacks. Every week, you come up with three book fitting three different categories: a diverse book you've read and enjoyed, a diverse book on your TBR, and a diverse book that has not been released yet.
Simon Vs. the Homo Sapiens Agenda by Becky Albertalli

Sixteen-year-old and not-so-openly gay Simon Spier prefers to save his drama for the school musical. But when an email falls into the wrong hands, his secret is at risk of being thrust into the spotlight. Now Simon is actually being blackmailed: if he doesn't play wingman for class clown Martin, his sexual identity will become everyone's business. Worse, the privacy of Blue, the pen name of the boy he's been emailing, will be compromised.

With some messy dynamics emerging in his once tight-knit group of friends, and his email correspondence with Blue growing more flirtatious every day, Simon's junior year has suddenly gotten all kinds of complicated. Now, change-averse Simon has to find a way to step out of his comfort zone before he's pushed out—without alienating his friends, compromising himself, or fumbling a shot at happiness with the most confusing, adorable guy he's never met.
Now that the Upside of Unrequited might show up on my doorstep any day (please let it be soon!!) I thought it was time to feature Simon!
I read Simon a few years ago, and I loved it so much! It's such a cute and happy story, and Becky Albertalli's writing was amazing. Also, they're in the process of filming the movie and I couldn't be more excited??? It might also have something to do with the fact that Nick Robinson is cast as Simon, and I always had a little crush on him, haha.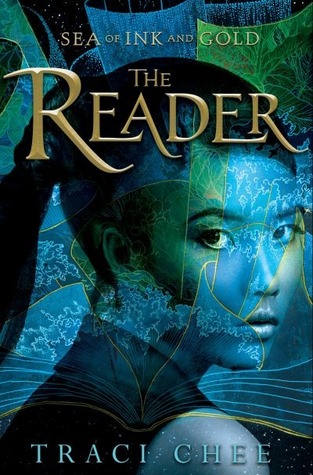 The Reader by Traci Chee
Once there was, and one day there will be. This is the beginning of every story.

Sefia lives her life on the run. After her father is viciously murdered, she flees to the forest with her aunt Nin, the only person left she can trust. They survive in the wilderness together, hunting and stealing what they need, forever looking over their shoulders for new threats. But when Nin is kidnapped, Sefia is suddenly on her own, with no way to know who's taken Nin or where she is. Her only clue is a strange rectangular object that once belonged to her father left behind, something she comes to realize is a book.

Though reading is unheard of in Sefia's world, she slowly learns, unearthing the book's closely guarded secrets, which may be the key to Nin's disappearance and discovering what really happened the day her father was killed. With no time to lose, and the unexpected help of swashbuckling pirates and an enigmatic stranger, Sefia sets out on a dangerous journey to rescue her aunt, using the book as her guide. In the end, she discovers what the book had been trying to tell her all along: Nothing is as it seems, and the end of her story is only the beginning.
I have heard nothing but great things about The Readers from friends and reviewers I trust, so I feel like this book is going to be a favorite of mine. And that cover??? GORGEOUS. I'm honestly just waiting for the paperback to come out so I can have the most amazing reading experience, because y'all know I hate hardbacks.
How to Make a Wish by Ashley Herring Blake
All seventeen year-old Grace Glasser wants is her own life. A normal life in which she sleeps in the same bed for longer than three months and doesn't have to scrounge for spare change to make sure the electric bill is paid. Emotionally trapped by her unreliable mother, Maggie, and the tiny cape on which she lives, she focuses on her best friend, her upcoming audition for a top music school in New York, and surviving Maggie's latest boyfriend—who happens to be Grace's own ex-boyfriend's father.

Her attempts to lay low until she graduates are disrupted when she meets Eva, a girl with her own share of ghosts she's trying to outrun. Grief-stricken and lonely, Eva pulls Grace into midnight adventures and feelings Grace never planned on. When Eva tells Grace she likes girls, both of their worlds open up. But, united by loss, Eva also shares a connection with Maggie. As Grace's mother spirals downward, both girls must figure out how to love and how to move on.
I could hardly choose the book I was going to use for 'a book releasing soon' this week, because there are so many books coming out on May 2nd that I've either read and loved, or am incredibly excited about. How to Make a Wish falls under the first option.
I loved this book so so much, and it means so much to me. If you want to know why, you can check out my full review here.

Twitter • Instagram •  Goodreads