Hi! I think everyone has that little stack of book that they're incredibly excited about, but somehow never actually pick up. Today I'm sharing 4 books that are apart of my little stack of books, because I thought it might be fun to share. And because I want you guys to hold me accountable, and make sure I read these ASAP!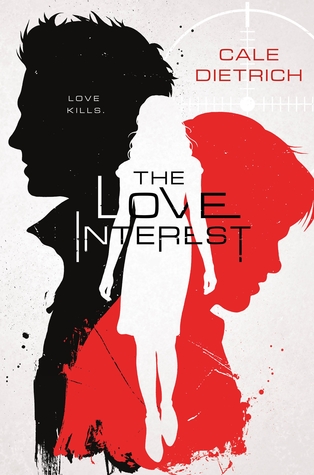 The Love Interest by Cale Dietrich
There is a secret organization that cultivates teenage spies. The agents are called Love Interests because getting close to people destined for great power means getting valuable secrets.

Caden is a Nice: The boy next door, sculpted to physical perfection. Dylan is a Bad: The brooding, dark-souled guy, and dangerously handsome. The girl they are competing for is important to the organization, and each boy will pursue her. Will she choose a Nice or the Bad?

Both Caden and Dylan are living in the outside world for the first time. They are well-trained and at the top of their games. They have to be – whoever the girl doesn't choose will die.

What the boys don't expect are feelings that are outside of their training. Feelings that could kill them both.
I got an ARC of The Love Interest in the mail only a week ago (I know!!! I don't know how that happened either!!) and I'm so incredibly excited to pick it up. The only things I know about this book are that it has LGBT+ themes and that it's about spies, and that's honestly all I need to know.
A Place Called No Homeland by Kai Cheng Thom
This extraordinary poetry collection journeys to the place where forgotten ancestors live and monstrous women roam—and where the distinctions between body, land, and language are lost. In these fierce yet tender narrative poems, Thom draws from both memory and mythology to create new maps of gender, race, sexuality, and violence. Descended from the traditions of oral storytelling, spoken word, and queer punk, Thom's debut collection is evocative and unforgettable.

Kai Cheng Thom is a trans writer and performance artist whose work has been published in Buzzfeed, Autostraddle, Asian American Literary Review, and xoJane. She writes regularly for Everyday Feminism
I don't think I have to say much about this one since the synopsis says it all. "In these fierce yet tender narrative poems, Thom draws from both memory and mythology to create new maps of gender, race, sexuality, and violence." YES PLEASE. I've already read one of the poems in this collection and it was absolutely incredible, so I can't wait to read the rest of them.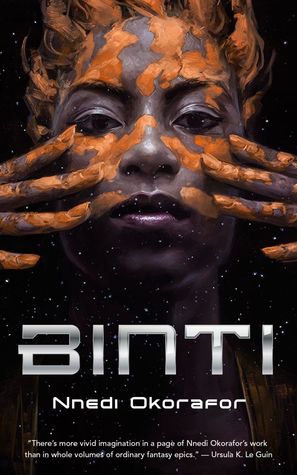 Binti by Nnedi Okorafor
Her name is Binti, and she is the first of the Himba people ever to be offered a place at Oomza University, the finest institution of higher learning in the galaxy. But to accept the offer will mean giving up her place in her family to travel between the stars among strangers who do not share her ways or respect her customs.

Knowledge comes at a cost, one that Binti is willing to pay, but her journey will not be easy. The world she seeks to enter has long warred with the Meduse, an alien race that has become the stuff of nightmares. Oomza University has wronged the Meduse, and Binti's stellar travel will bring her within their deadly reach.

If Binti hopes to survive the legacy of a war not of her making, she will need both the gifts of her people and the wisdom enshrined within the University, itself – but first she has to make it there, alive.
Binti is one of those ebooks that has been sitting on my ebook shelf (is that a thing?) for quite some time, and I've been waiting for the perfect moment to pick it up. It's a sci-fi book and I'm almost never in the mood for sci-fi, but I've actually been wanting to read more sci-fi lately so now is definitely the perfect time! (That was such a beautiful structured sentence, wasn't it? Lmao.)  It's also only around 100 pages so it should be a quick read, which is perfect.
Interim Goddess of Love by Mina V. Esguerra
College sophomore Hannah Maquiling doesn't know why everyone tells her their love problems. She's never even had a boyfriend, but that doesn't stop people from spilling their guts to her, and asking for advice. So maybe it shouldn't be a surprise when the cutest guy in school tells her that she's going to have to take on this responsibility — but for all humanity.

The Goddess of Love has gone AWOL. It's a problem, because her job is to keep in check this world's obsession with love (and lack of it). The God of the Sun, for now an impossibly handsome senior at an exclusive college just outside of Metro Manila, thinks Hannah has what it takes to (temporarily) do the job.

While she's learning to do this goddess thing, she practices on the love troubles of shy Kathy, who's got a secret admirer on campus. Hannah's mission, should she choose to accept it, is to make sure that he's not a creepy stalker and they find their happily ever after — or at least something that'll last until next semester. (As if she could refuse! The Sun God asked so nicely. And he's so, well, hot.)
This book has been on my TBR since, well, FOREVER. I love #romanceclass books, and that + Gods?? Yes!!! I can't believe I haven't picked this up yet, especially because I've heard nothing but great things about it, but you know what? I hereby promise all of you that I will have read this by the end of the summer. Otherwise, I will, eh, I don't know? Go on a book buying ban? Host a giveaway? We'll figure something out!
What are some of the books that you want to pick up ASAP? Let me know!