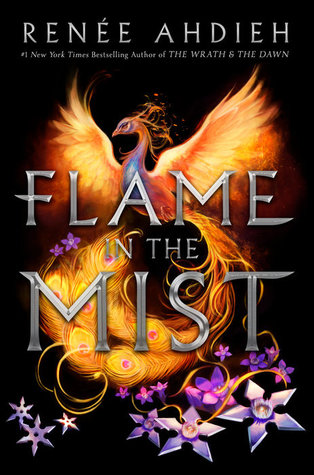 Title: Flame in the Mist
Author: Renée Ahdieh
Series: Flame in the Mist #1
Genres: Young Adult, Fantasy
Goodreads
The only daughter of a prominent samurai, Mariko has always known she'd been raised for one purpose and one purpose only: to marry. Never mind her cunning, which rivals that of her twin brother, Kenshin, or her skills as an accomplished alchemist. Since Mariko was not born a boy, her fate was sealed the moment she drew her first breath.

So, at just seventeen years old, Mariko is sent to the imperial palace to meet her betrothed, a man she did not choose, for the very first time. But the journey is cut short when Mariko's convoy is viciously attacked by the Black Clan, a dangerous group of bandits who've been hired to kill Mariko before she reaches the palace.

The lone survivor, Mariko narrowly escapes to the woods, where she plots her revenge. Dressed as a peasant boy, she sets out to infiltrate the Black Clan and hunt down those responsible for the target on her back. Once she's within their ranks, though, Mariko finds for the first time she's appreciated for her intellect and abilities. She even finds herself falling in love—a love that will force her to question everything she's ever known about her family, her purpose, and her deepest desires.
I'm afraid Renée Ahdieh's books and I aren't a great match. I didn't particularly love The Wrath & The Dawn when I first read it, and I didn't love Flame in the Mist either. It isn't that the books are bad, I actually quite enjoy the stories itself, but there's something about the writing which makes me unable to fully dive into the story or connect with the characters. It just doesn't seem to pull me in at all, which is really a shame because there are so many things that I do like about her books.
I really enjoyed the main character, Mariko. She's incredibly intelligent, resourceful and headstrong: she needs to know who was planning on murdering her and why, and nothing will stop her. She decides to cut her hair, disguise herself as a boy, and join the Black Clan, whom she believes were sent to kill her.
Mariko gets very close to the Black Clan fast and feels a real connection to them, even though she's still convinced that they were send to kill her, and even though there is a clear lack in the connection between her in the other guys, which makes the fact that she feels like she truly belongs here a bit unbelievable. So, when she chooses the Clan whom she has known for what? A few weeks? Over her own twin brother, it feels very strange.
Then there's the romance between Mariko and Okami, one of the members of the Black Clan, which felt very strange and out of place. Sure, it was kind of swoon worthy and they complement each other quite well, but I found myself almost skipping over the scenes between the two because I just didn't care. I also didn't appreciate the bi-erasure in this book (which honestly might be a big part of the reason why I didn't like the romance), because the whole romance only really 'develops' once Okami finds out that Mariko is actually a girl (seriously, they kiss literally seconds after he finds out) and the fact that Okami was clearly attracted to her, even when he thought she was a boy, was brushed to the side and never spoken of. This hurt.
I, however, did really like the world and the side plots that Renee Ahdieh crafted. The world was very magical, intriguing and mysterious, and even if you didn't care that much about the main plot or the romance, the side-plot about the emperor and his love or Mariko's brother would keep you from putting the book down. And I really do feel like this series has a lot of potential, and that it could become absolutely amazing once the series progresses, so even if I didn't like this book all that much I am planning on picking up the second book.
All in all, I didn't like Flame in the Mist all that much. The writing style is just not for me, I didn't really care about the main plot, and the romance felt very out of place. The book did have a lot going for it though, like the amazing main character, the great world and the interesting side-plots. But overall, I felt incredibly underwhelmed by the book and the bi-erasure stung, so I wouldn't necessarily recommend it.
Twitter • Instagram •  Goodreads