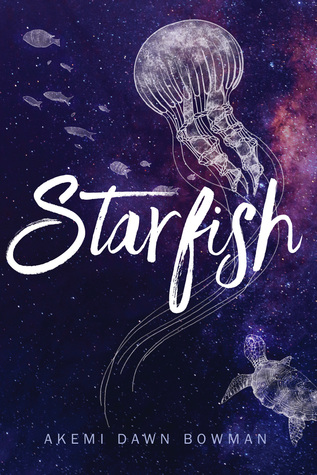 Title: Starfish
Author: Akemi Dawn Bowman
Genres: YA contemporary
Kiko Himura has always had a hard time saying exactly what she's thinking. With a mother who makes her feel unremarkable and a half-Japanese heritage she doesn't quite understand, Kiko prefers to keep her head down, certain that once she makes it into her dream art school, Prism, her real life will begin.

But then Kiko doesn't get into Prism, at the same time her abusive uncle moves back in with her family. So when she receives an invitation from her childhood friend to leave her small town and tour art schools on the west coast, Kiko jumps at the opportunity in spite of the anxieties and fears that attempt to hold her back. And now that she is finally free to be her own person outside the constricting walls of her home life, Kiko learns life-changing truths about herself, her past, and how to be brave.

From debut author Akemi Dawn Bowman comes a luminous, heartbreaking story of identity, family, and the beauty that emerges when we embrace our true selves.
Tw: Ableism, sexual abuse, emotional abuse, anxiety, suicide, panic attacks
Starfish was one of my most anticipated books of the year. I've featured it in a Waiting on Wednesday post here, a Top Ten Tuesday post here, and a lot (and I mean a LOT) of tweets. I've also done everything to get my hands on an ARC of this book; I've emailed the publisher twice (who never replied), requested it on Edelweiss and Netgalley (both of my requests were denied) and then I saw the announcement for this blog tour on Twitter, which I, of course, immediately signed up for.
When I got an email saying that I was accepted and I realized that I could finally read the book I was so incredibly excited about I might have done a little happy dance. Maybe. I'll never actually admit it, though.
I didn't start reading Starfish right away because reading a book with the trigger warnings that it has at that certain time wouldn't be a good idea, but once I did start reading it I quickly fell in love with it. And I can definitely say that even though I knew I was going to love the book from the start, the amount of love that I ended up having for this book was even bigger than I expected.
Starfish is an incredibly heavy read. It deals with anxiety, racism, being biracial, sexual abuse, suicide, emotional abuse, and it does it in a very sensitive way. I'm not an #OwnVoices reviewer for most of these things which is why I won't get into most of these things in detail (I definitely encourage you to look for reviews that are #OwnVoices) but something that I can talk about is the anxiety rep.
Kiko deals with anxiety, mostly social anxiety, and she has a lot of trouble going to parties, meeting new people, and overthinks things a lot. Seeing Kiko's thoughts on the page hit me hard, because it were exactly the same thoughts that I have, and I had never seen that in a book before. Logically, I knew that I wasn't the only one with these thoughts, but actually seeing that you're not alone is very different, and that had a big emotional impact on me.
Besides loving the mental health rep, I also adored the characters, loved the writing, really enjoyed seeing the relationships between the characters, and the character development that Kiko goes through in the book is amazing. I also loved how, even though this is a book that's about mental illness & trauma and it features a romantic relationship, this book didn't suffer from 'mental illness cured by love'-syndrome. Not at all.
I could honestly write a 50 page essay on how much I loved the book, but it all boils down to this: Starfish means the world to me, and I would love for you to pick it up. Please do. And please come chat with me about it once you've finished it!
Edit: I want to discuss something that I hadn't noticed while reading the book, which is the fact that Kiko calls her mother 'split-minded, psychopathic and narcissistic'. This is very harmful and ableist and I apologize for the fact that I hadn't picked up on this before.
Playlist
I've also made a playlist for Starfish, and I never knew how hard making a playlist for a book is. I ended up with a combination of artists that Jamie introduces Kiko to in the book (Wilco and The Smiths), songs that have helped me with my anxiety (Emmylou and Go) and two kind-of-love-songs (I Only Wanna Talk to You and Waking Up Slow). It's very easy to listen to and I like it a lot, and really hope you will too.
You can check it out on Spotify here!
Giveaway
You can enter a giveaway to win a singed and personalized copy of Starfish by Akemi Dawn Bowman here!
Twitter • Instagram • Goodreads