Hi! Today I'll be doing the opposite of a book haul for y'all: an anti-haul! The purpose of an anti-haul is to, instead of showing books you bought, share some of the hyped books that you won't be buying. Julie from Pages & Pens came up with this idea because apparently this is quite a big thing in the beauty community, which she's also apart of. My post is inspired by Taryn's from A Sunlit Library.
For this post, I chose not to include any problematic books because I think it kind of goes without saying that I won't be buying those. These are just books that I'm not all that interested in. Also, please don't take this personally. These are just my thoughts and my opinions and we can't all have the same taste in books, right?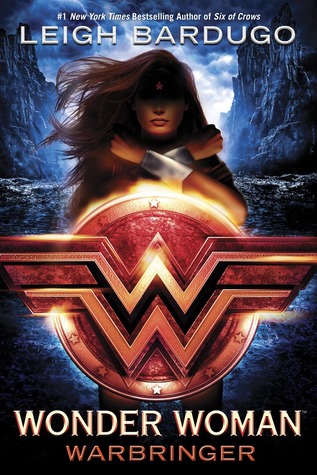 Wonder Woman: Warbringer by Leigh Bardugo
Daughter of immortals.

Princess Diana longs to prove herself to her legendary warrior sisters. But when the opportunity finally comes, she throws away her chance at glory and breaks Amazon law—risking exile—to save a mortal. Diana will soon learn that she has rescued no ordinary girl, and that with this single brave act, she may have doomed the world.

Daughter of death.

Alia Keralis just wanted to escape her overprotective brother with a semester at sea. She doesn't know she is being hunted by people who think her very existence could spark a world war. When a bomb detonates aboard her ship, Alia is rescued by a mysterious girl of extraordinary strength and forced to confront a horrible truth: Alia is a Warbringer—a direct descendant of the infamous Helen of Troy, fated to bring about an age of bloodshed and misery.

Together.

Two girls will face an army of enemies—mortal and divine—determined to either destroy or possess the Warbringer. Tested beyond the bounds of their abilities, Diana and Alia must find a way to unleash hidden strengths and forge an unlikely alliance. Because if they have any hope of saving both their worlds, they will have to stand side by side against the tide of war.
I guess we're starting off with a bit of a controversial one, because everyone and their mother seems to be reading and loving this book. I just don't know ANYTHING about the whole DC universe (Wonder Woman is DC, right? Or am I just embarrassing myself here?) so I have a feeling this book will just be confusing because of my lack of knowledge. I might try it once I've seen the movie, though, but I'm not a big movie-person so I'm not sure if that'll ever happen.
Turtles All the Way Down by John Green
Sixteen-year-old Aza never intended to pursue the mystery of fugitive billionaire Russell Pickett, but there's a hundred-thousand-dollar reward at stake and her Best and Most Fearless Friend, Daisy, is eager to investigate. So together, they navigate the short distance and broad divides that separate them from Russell Pickett's son, Davis.

Aza is trying. She is trying to be a good daughter, a good friend, a good student, and maybe even a good detective, while also living within the ever-tightening spiral of her own thoughts.

In his long-awaited return, John Green, the acclaimed, award-winning author of Looking for Alaska and The Fault in Our Stars, shares Aza's story with shattering, unflinching clarity in this brilliant novel of love, resilience, and the power of lifelong friendship.
When I first read Looking For Alaska and The Fault in our Stars I loved them and I was convinced that John Green was going to be my all time favorite author. But then I read An Abundance of Katherines and Paper Towns and I sadly didn't like them at all. I began to realize that almost all of John Green's book follow the same formula, and I'm just not interested in that anymore, so I'm going to skip his newest release. Maybe I'll borrow the ebook from the library if I hear amazing things about it, though.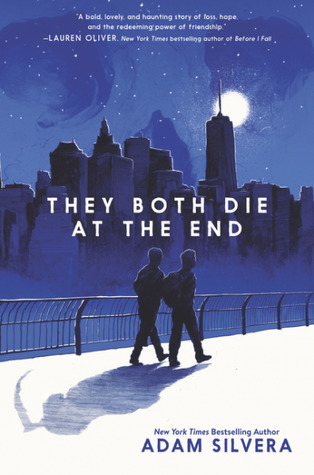 They Both Die at the End by Adam Silvera
On September 5, a little after midnight, Death-Cast calls Mateo Torrez and Rufus Emeterio to give them some bad news: They're going to die today. Mateo and Rufus are total strangers, but, for different reasons, they're both looking to make a new friend on their End Day. The good news: There's an app for that. It's called the Last Friend, and through it, Rufus and Mateo are about to meet up for one last great adventure and to live a lifetime in a single day.
Please don't hate me for this one! I think Adam Silvera is an amazing author and I'm incredibly glad his books are so incredibly popular, but I don't think I'll ever pick them up. His books are sad. And with that I mean, heart-shatteringly sad. I can't deal with that. I know my mental health can be easily influenced by the media that I consume, and I know that books like these will trigger depressive episodes so I just know that I should avoid them. But I've heard amazing things about this book so if you can handle books like this, please give it a try!
An Enchantment of Ravens by Margaret Rogerson
Isobel is a prodigy portrait artist with a dangerous set of clients: the sinister fair folk, immortal creatures who cannot bake bread, weave cloth, or put a pen to paper without crumbling to dust. They crave human Craft with a terrible thirst, and Isobel's paintings are highly prized among them. But when she receives her first royal patron—Rook, the autumn prince—she makes a terrible mistake. She paints mortal sorrow in his eyes – a weakness that could cost him his life.

Furious and devastated, Rook spirits her away to the autumnlands to stand trial for her crime. Waylaid by the Wild Hunt's ghostly hounds, the tainted influence of the Alder King, and hideous monsters risen from barrow mounds, Isobel and Rook depend on one another for survival. Their alliance blossoms into trust, then love, violating the fair folks' ruthless Good Law. There's only one way to save both their lives, Isobel must drink from the Green Well, whose water will transform her into a fair one—at the cost of her Craft, for immortality is as stagnant as it is timeless.

Isobel has a choice: she can sacrifice her art for a future, or arm herself with paint and canvas against the ancient power of the fairy courts. Because secretly, her Craft represents a threat the fair folk have never faced in all the millennia of their unchanging lives: for the first time, her portraits have the power to make them feel.
I've been seeing this book everywhere lately but there's just nothing about this book that interests me. I just don't really care about fae stories? But maybe that's just because they left a bit of a bad taste in my mouth after everything that went on with SJM.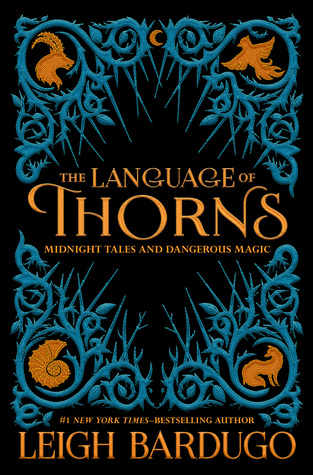 The Language of Thorns by Leigh Bardugo
Love speaks in flowers. Truth requires thorns.

Travel to a world of dark bargains struck by moonlight, of haunted towns and hungry woods, of talking beasts and gingerbread golems, where a young mermaid's voice can summon deadly storms and where a river might do a lovestruck boy's bidding but only for a terrible price.

Inspired by myth, fairy tale, and folklore, #1 New York Times–bestselling author Leigh Bardugo has crafted a deliciously atmospheric collection of short stories filled with betrayals, revenge, sacrifice, and love.

Perfect for new readers and dedicated fans, these tales will transport you to lands both familiar and strange—to a fully realized world of dangerous magic that millions have visited through the novels of the Grishaverse.

This collection of six stories includes three brand-new tales, all of them lavishly illustrated with art that changes with each turn of the page, culminating in six stunning full-spread illustrations as rich in detail as the stories themselves.
Okay first of all, this book is so unbelievably gorgeous?? I was kind of tempted to buy it just to stare at it, but since I've only read one of the Grisha books, I thought it was kind of useless to buy this book. Maybe I'll buy it once I've read the rest of the books?
Also, please don't yell at me for not having read the books yet. I will get to them soon!!! I hope. They just look so incredibly intimidating.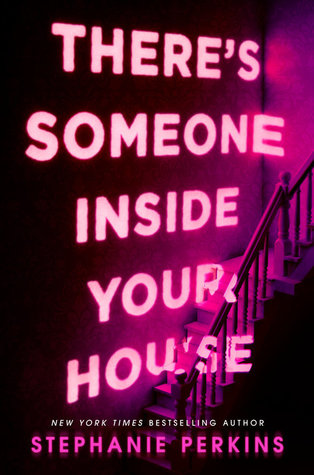 There's Someone Inside Your House by Stephanie Perkins
Scream meets YA in this hotly-anticipated new novel from the bestselling author of Anna and the French Kiss.

One-by-one, the students of Osborne High are dying in a series of gruesome murders, each with increasing and grotesque flair. As the terror grows closer and the hunt intensifies for the killer, the dark secrets among them must finally be confronted.

International bestselling author Stephanie Perkins returns with a fresh take on the classic teen slasher story that's fun, quick-witted, and completely impossible to put down.
There are 2 pretty simple reasons why I'm not picking this book up. The first one is because I haven't read any actual positive reviews of it, and the second one is that I don't read horror stories. They don't mix well with my anxiety. I did like the Anna and the French Kiss series when I read them years back, and I totally applaud the author for writing in a totally different genre. I don't think I've seen that happen a lot, so that's pretty cool.
So those are some of the books that I won't be buying! Now tell me, because I'm incredibly curious: what are some of the new releases you're not planning on buying? Do you agree with my list? Let me know!
Twitter • Instagram •  Goodreads