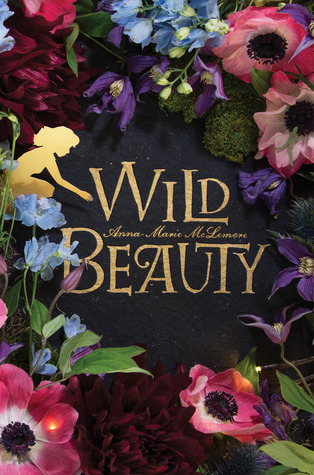 Title: Wild Beauty
Author: Anna-Marie McLemore
Genres: Fantasy, Magical Realism
Goodreads
Love grows such strange things.

For nearly a century, the Nomeolvides women have tended the grounds of La Pradera, the lush estate gardens that enchant guests from around the world. They've also hidden a tragic legacy: if they fall in love too deeply, their lovers vanish. But then, after generations of vanishings, a strange boy appears in the gardens.

The boy is a mystery to Estrella, the Nomeolvides girl who finds him, and to her family, but he's even more a mystery to himself; he knows nothing more about who he is or where he came from than his first name. As Estrella tries to help Fel piece together his unknown past, La Pradera leads them to secrets as dangerous as they are magical in this stunning exploration of love, loss, and family.
I've never read an Anna-Marie McLemore book before this (well, I did read 60 pages of When the Moon Was Ours but I wasn't in the mood for it so I put it down, but that doesn't  really count…) but I had incredibly high expectations. Everyone I know adores her books, and she's basically everyone's favorite author, and I expected that to be the same for me once I finished this.
Needless to say, I can now officially say that I'm apart of the Anna-Marie McLemore fanclub, and that I'm planning on reading every single thing that she writes. Ever.
The writing in this book is gorgeous. Seriously, absolutely breathtaking. I know that I've said that I don't like flowery language, and to be quite honest, I still don't. I found myself skipping over a few of the descriptions because of it, but that's 100% on me, not the book. Sometimes you can recognize things as beautiful even though you don't love them as much yourself.
Anna-Marie McLemore has this way with words that's indescribable. It's pure magic. It's like the words wrap themselves around you and transport you to another world. There's honestly nothing like it, and I'm pretty sure that it's the most gorgeous writing I've ever encountered.
I also loved how this book is so unapologetically queer from page one. I mean, the book starts off with 5 cousins fawning over the same girl, and honestly? It's great. And it made me so happy.
While there are two incredibly wonderful romantic relationships in the book, the main focus is on the family relationships. In the Nomeolvides family there are 5 women per generation, and they live together in the same house. Seeing the way they interact and care for each other is absolutely wonderful, and I also loved how, while there are a lot of women in the book, they don't all become some sort of blur. Every single person is different, and you can keep them apart pretty easily.
(I do have to admit that while reading I had to make some sort of family tree because I started to get a little confused, but that's just because I'm absolutely terrible with names. So if you are too, I would definitely recommend making one because it really helped me.)
I just loved everything about this book. The bi rep, the writing, the plot, the setting, the relationships, just everything. This book is pure magic and I honestly couldn't recommend it enough.