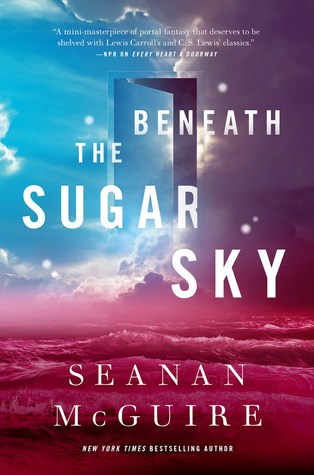 Title: Beneath the Sugar Sky
Series: Wayward Children #3
Author: Seanan McGuire
Genres: Fantasy
Goodreads
Beneath the Sugar Sky returns to Eleanor West's Home for Wayward Children. At this magical boarding school, children who have experienced fantasy adventures are reintroduced to the "real" world.

Sumi died years before her prophesied daughter Rini could be born. Rini was born anyway, and now she's trying to bring her mother back from a world without magic.
The Wayward Children series is  one of my favorite series at the moment, and I felt like the series got better with every book. Because of this, and because of the synopsis and absolutely beautiful cover of the book, I was convinced that this was going to become my new favorite. Sadly, this didn't happen.
I wasn't even planning on picking this one up right now. I comes out in January and I have so many other ARCs that I have to finish beforehand, but I couldn't stop myself. The cover was calling my name, and I was so sure I was going to love it, which just makes it super disappointing when you don't.
Don't get me wrong, I still think the book was good and I enjoyed it very much. I loved seeing a lot of characters from book one again and exploring more of the world. Or rather, worlds, plural. I also loved Seanan McGuire's writing which was very atmospheric and read like a fairytale, like always.
Speaking of the worlds, I absolutely loved them. I loved how every single world had their own, very distinct atmosphere. I loved the way Seanan McGuire described them, and how I could picture every single detail so clearly in my mind. It was like I could almost smell the candy corn, which is a bit strange since I've never even seen candy corn in real life.
I think what went wrong for me with this book were my expectations. Even though I loved the first two books in the series, which were both pretty dark, I just don't tend to like very dark books. And when I saw how cute and colorful the cover of this one was I automatically thought we were getting a bit of a lighter read, which was my mistake. Because it wasn't light at all.
Another thing that I didn't love was that there were quite a few attempts at explaining how the whole Wayward Children world(s) work, and this might just be me, but it ended up leaving me even more confused. Which is never a good feeling.
A thing that I really loved about the book was the fat representation. One of the characters in the book is fat, and the way she thinks is so incredibly relatable. And what I really appreciated was that the author didn't try to sugar-coat it, but kept it realistic, which was difficult to read at times, but also meant a lot.
I honestly loved the characters in general. Like I mentioned before, we got to see a few characters from book one again, which was absolutely wonderful. But we also got to meet a few new characters, who were absolutely amazing in itself. The author really has a way of crafting characters who are very special, without making them feel too quirky. They just seem normal. But in a very special way.
Overall, I think that Beneath the Sugar Sky was a good book, and if you liked the previous books I'm pretty sure you'll like this one too. I just wish I'd gone into it with different expectations.
Twitter • Instagram •  Goodreads