Hi! In September I shared my first post on 2018 releases that I'm incredibly excited about, and today I'm doing another one! I have to be totally honest with y'all and say that I'll probably end up doing a few more of these since I haven't even discussed 5% of all of the 2018 books I'm excited about (there are so SO MANY), but I personally really don't mind. I hope you don't either.
Hullmetal Girls by Emily Skrutskie
For fans of Pierce Brown and Rhoda Belleza, here is epic space adventure full of action, heart and two kick-butt heroines.

Aisha Un-Haad would do anything for her family. When her brother contracts a plague, she knows her janitor's salary isn't enough to fund his treatment. So she volunteers to become a Scela, a mechanically enhanced soldier sworn to protect and serve the governing body of the Fleet, the collective of starships they call home. If Aisha can survive the harrowing modifications and earn an elite place in the Scela ranks, she may be able to save her brother.

Key Tanaka awakens in a Scela body with only hazy memories of her life before. She knows she's from the privileged end of the Fleet, but she has no recollection of why she chose to give up a life of luxury to become a hulking cyborg soldier. If she can make it through the training, she might have a shot at recovering her missing past.

In a unit of new recruits vying for top placement, Aisha's and Key's paths collide, and the two must learn to work together–a tall order for girls from opposite ends of the Fleet. But a rebellion is stirring, pitting those who yearn for independence from the Fleet against a government struggling to maintain unity.

With violence brewing and dark secrets surfacing, Aisha and Key find themselves questioning their loyalties. They will have to put aside their differences, though, if they want to keep humanity from tearing itself apart.
Not the Girls You're Looking For by Aminah Mae Safi
Lulu Saad doesn't need your advice, thank you very much. She's got her three best friends and nothing can stop her from conquering the known world. Sure, for half a minute she thought she'd nearly drowned a cute guy at a party, but he was totally faking it. And fine, yes, she caused a scene during Ramadan. It's all under control. Ish.

Except maybe this time she's done a little more damage than she realizes. And if Lulu can't find her way out of this mess soon, she'll have to do more than repair friendships, family alliances, and wet clothing. She'll have to go looking for herself.
Give Me Some Truth by Eric Gansworth
Carson Mastick is entering his senior year of high school and desperate to make his mark, on the reservation and off. A rock band — and winning the local Battle of the Bands, with its first prize of a trip to New York City — is his best shot. But things keep getting in the way. Small matters like the lack of an actual band, or the fact that his brother just got shot confronting the racist owner of a local restaurant.

Maggi Bokoni has just moved back to the reservation from the city with her family. She's dying to stop making the same traditional artwork her family sells to tourists (conceptual stuff is cooler), stop feeling out of place in her new (old) home, and stop being treated like a child. She might like to fall in love for the first time too.

Carson and Maggi — along with their friend Lewis — will navigate loud protests, even louder music, and first love in this stirring novel about coming together in a world defined by difference.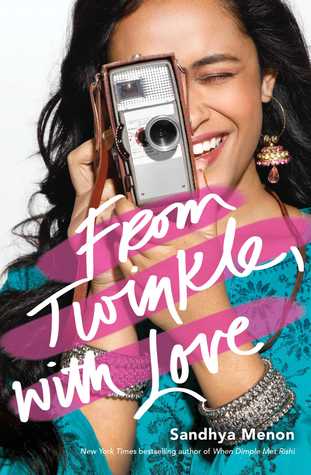 From Twinkle, With Love by Sandhya Menon
Aspiring filmmaker and wallflower Twinkle Mehra has stories she wants to tell and universes she wants to explore, if only the world would listen. So when fellow film geek Sahil Roy approaches her to direct a movie for the upcoming Summer Festival, Twinkle is all over it. The chance to publicly showcase her voice as a director? Dream come true. The fact that it gets her closer to her longtime crush, Neil Roy—a.k.a. Sahil's twin brother? Dream come true x 2.

When mystery man "N" begins emailing her, Twinkle is sure it's Neil, finally ready to begin their happily-ever-after. The only slightly inconvenient problem is that, in the course of movie-making, she's fallen madly in love with the irresistibly adorkable Sahil.

Twinkle soon realizes that resistance is futile: The romance she's got is not the one she's scripted. But will it be enough?

Told through the letters Twinkle writes to her favorite female filmmakers, From Twinkle, with Love navigates big truths about friendship, family, and the unexpected places love can find you.
The Girl and the Grove by Eric Smith
Teenager Leila's life is full of challenges. From bouncing around the foster care system to living with seasonal affective disorder, she's never had an easy road. Leila keeps herself busy with her passion for environmental advocacy, monitoring the Urban Ecovists message board and joining a local environmental club with her best friend Sarika. And now that Leila has finally been adopted, she dares to hope her life will improve.

But the voices in Leila's head are growing louder by the day. Ignoring them isn't working anymore. Something calls out to her from the grove at Fairmount Park.
So, that's all for today! Please leave a comment telling me about what your most anticipated 2018 release is, because I'm very excited to see!