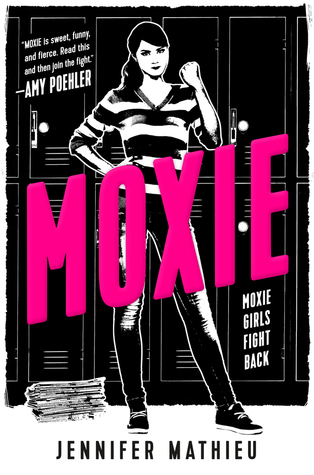 Title: Moxie
Author: Jennifer Mathieu
Genres: Contemporary
Goodreads
Moxie girls fight back!

Vivian Carter is fed up. Fed up with her small-town Texas high school that thinks the football team can do no wrong. Fed up with sexist dress codes and hallway harassment. But most of all, Viv Carter is fed up with always following the rules.

Viv's mom was a punk rock Riot Grrrl in the '90s, so now Viv takes a page from her mother's past and creates a feminist zine that she distributes anonymously to her classmates. She's just blowing off steam, but other girls respond. Pretty soon Viv is forging friendships with other young women across the divides of cliques and popularity rankings, and she realizes that what she has started is nothing short of a girl revolution.
I had heard a lot of good things about Moxie before I picked it up, and the synopsis sounded amazing, so I was expecting to love this book a lot. Sadly, the book fell a bit flat for me. Don't get me wrong, I still liked it, but it just wasn't as good as I expected it to be…
The thing I probably liked the most about the book was the friendship between the female characters. I always love a good female friendship, and I loved seeing how they supported each other, educated each other, and above all, grew together.
I also adored the relationship between Viv and her family. Viv's pretty close with her mom, and even though stuff might not always go the way she planned, they stick together. I also loved seeing how close Viv is to her grandparents. You don't often see grandparents in YA, so this was a very nice change that definitely made me smile.
The romance in the book was incredibly cute, even though I would've personally liked to see this book focus solely on the female friendships, but that's just me. It was very refreshing to see a guy in a book who identifies as a feminist, and I loved seeing how he supported Viv. I also really liked how they showed that him trying to be helpful wasn't always the greatest thing, because even while trying to help, he did some shitty things. Through this, the book carried the message that people might do shitty things, but they're always able to educate themselves and grow, if they want to. And I quite liked that.
One of my biggest complaints about the book is the lack of intersectionality. There was an attempt at making the book a little bit intersectional by mentioning race once, but other than that, there was nothing besides the discussion of power inequality between cis men and cis women. The book was definitely catered towards white allo cishet able-bodied people.
So overall, I did enjoy the book, and some scenes made me feel super powerful and like anything was possible, but in the end, it just wasn't enough. It needed more. A lot more. Especially in the intersectionality department.
Twitter • Instagram •  Goodreads