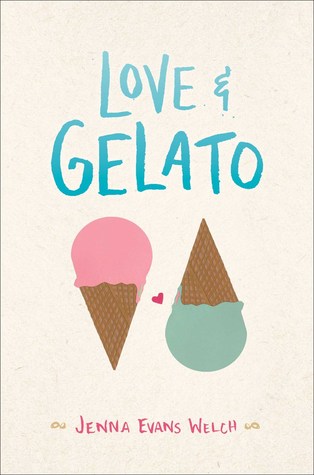 Title: Love & Gelato
Author: Jenna Evans Welch
Genres: Young Adult Contemporary
Goodreads
"I made the wrong choice."

Lina is spending the summer in Tuscany, but she isn't in the mood for Italy's famous sunshine and fairy-tale landscape. She's only there because it was her mother's dying wish that she get to know her father. But what kind of father isn't around for sixteen years? All Lina wants to do is get back home.

But then she is given a journal that her mom had kept when she lived in Italy. Suddenly Lina's uncovering a magical world of secret romances, art, and hidden bakeries. A world that inspires Lina, along with the ever-so-charming Ren, to follow in her mother's footsteps and unearth a secret that has been kept for far too long. It's a secret that will change everything she knew about her mother, her father—and even herself.

People come to Italy for love and gelato, someone tells her, but sometimes they discover much more.
Love & Gelato is the perfect read for a lazy, summery day. The writing is very easy to get lost in, the plot is wonderful, and the book is set in Italy. And who doesn't want to be fictionally transported to Italy?
I honestly didn't really care for the romance, which was definitely a shame because that was one of the main reasons why I picked this book up. I just didn't find myself swooning over these characters, and I honestly didn't feel any interest in their relationship. Don't get me wrong, I did like the characters themselves, but whenever the book started focusing on them I kind of wanted to skip ahead and read the stuff I actually cared about instead.
Maybe that says something about how good the other aspects of the book are though, because there were a lot of things to like about the book. My favorite part was definitely the family-relationships, and the kind of 'what-happened-to-my-mom-while-she-was-in-Italy' – mystery, which we got to find out more about through her mom's journal entries. This aspect of the book was what kept me hooked and made me unable to put the book down, which is why I ended up finishing it in one day. I do have to say that I saw the 'mystery reveal' coming from miles away, but for me, it didn't make it less fun to read.
The ending of this book was so, so wonderful. It was bitter-sweet yet heart-warming, and it left me in tears. It was definitely the perfect ending, in my opinion.
Sadly, the book definitely wasn't unique, and therefore a bit forgettable. That's not necessarily a bad thing, I think. Not every book has to completely wow me and change my life for me to enjoy it, and sometimes very forgettable books are the perfect summer read for me, but still. Also, the book does have a few ableist comments, so please be careful with that.
All in all, I really liked Love & Gelato. If you're looking for a fun contemporary with an amazing plot and dream-like setting, look no further. I did wish that I liked the romance a bit more, though, and I could definitely do without the ableist comments.