Picture this: you read a book and you completely fall in love with it. Everything about it is amazing, and you can't stop talking about it. But over time, you start mentioning it less and less, and then you start feeling guilty because this book is amazing and it deserves all the love, but it's not getting it. So, you decide to write a blog post about the book(s) in the hope that more people will pick them up.
That blog post is this blog post (I hope that makes sense), and these are the books I want to give some more love to.
Iron Cast by Destiny Soria
In 1919, Ada Navarra—the intrepid daughter of immigrants—and Corinne Wells—a spunky, devil-may-care heiress—make an unlikely pair. But at the Cast Iron nightclub in Boston, anything and everything is possible. At night, on stage together, the two best friends, whose "afflicted" blood gives them the ability to create illusions through art, weave magic under the employ of Johnny Dervish, the club's owner and a notorious gangster. By day, Ada and Corinne use these same skills to con the city's elite in an attempt to keep the club afloat.

When a "job" goes awry and Ada is imprisoned, she realizes they're on the precipice of danger. Only Corinne—her partner in crime—can break her out of Haversham Asylum. But once Ada is out, they face betrayal at every turn.
I loved everything about Iron Cast when I read it. The characters, the magic system, the writing, and especially the setting. This book was super immersive and it felt like you were there, in a nightclub in Boston in 1919. I don't ever really reread books, but I really want to experience this again, so I might pick it up soon.
The Forbidden Wish by Jessica Khoury
She is the most powerful Jinni of all. He is a boy from the streets. Their love will shake the world… 

When Aladdin discovers Zahra's jinni lamp, Zahra is thrust back into a world she hasn't seen in hundreds of years—a world where magic is forbidden and Zahra's very existence is illegal. She must disguise herself to stay alive, using ancient shape-shifting magic, until her new master has selected his three wishes.

But when the King of the Jinn offers Zahra a chance to be free of her lamp forever, she seizes the opportunity—only to discover she is falling in love with Aladdin. When saving herself means betraying him, Zahra must decide once and for all: is winning her freedom worth losing her heart?

As time unravels and her enemies close in, Zahra finds herself suspended between danger and desire in this dazzling retelling of Aladdin from acclaimed author Jessica Khoury.
I remember getting this book in a Fairyloot crate (it was their first box, and also the first (and probably last) bookish box I'll ever buy) and being very hesitant about it. I'd never heard of it before, and the reviews were just okay, so I put it off for quite some time. But when I finally picked it up, I completely fell in love with it.
Girls Made of Snow and Glass by Melissa Bashardoust
Frozen meets The Bloody Chamber in this feminist fantasy reimagining of the Snow White fairytale

At sixteen, Mina's mother is dead, her magician father is vicious, and her silent heart has never beat with love for anyone—has never beat at all, in fact, but she'd always thought that fact normal. She never guessed that her father cut out her heart and replaced it with one of glass. When she moves to Whitespring Castle and sees its king for the first time, Mina forms a plan: win the king's heart with her beauty, become queen, and finally know love. The only catch is that she'll have to become a stepmother.

Fifteen-year-old Lynet looks just like her late mother, and one day she discovers why: a magician created her out of snow in the dead queen's image, at her father's order. But despite being the dead queen made flesh, Lynet would rather be like her fierce and regal stepmother, Mina. She gets her wish when her father makes Lynet queen of the southern territories, displacing Mina. Now Mina is starting to look at Lynet with something like hatred, and Lynet must decide what to do—and who to be—to win back the only mother she's ever known…or else defeat her once and for all.

Entwining the stories of both Lynet and Mina in the past and present, Girls Made of Snow and Glass traces the relationship of two young women doomed to be rivals from the start. Only one can win all, while the other must lose everything—unless both can find a way to reshape themselves and their story.
I picked up an ARC of this book a few months back and I was completely blown away by it. This was one of my favorite reads of the year, and one of my favorite retellings ever. This story was so magnificently done. It's a retelling of Snow White, and it does have a lot of nods to the original text, but it stands as it's own story. It's original, and surprising, which is hard to do with a retelling. I wrote a review for it, which you can find here.
The Reader by Traci Chee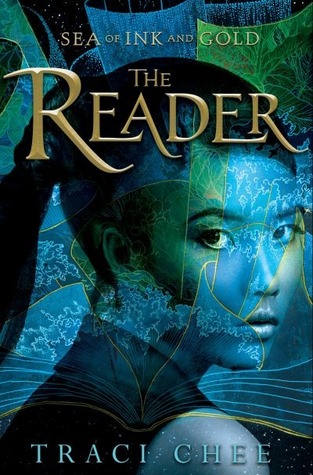 Once there was, and one day there will be. This is the beginning of every story.

Sefia lives her life on the run. After her father is viciously murdered, she flees to the forest with her aunt Nin, the only person left she can trust. They survive in the wilderness together, hunting and stealing what they need, forever looking over their shoulders for new threats. But when Nin is kidnapped, Sefia is suddenly on her own, with no way to know who's taken Nin or where she is. Her only clue is a strange rectangular object that once belonged to her father left behind, something she comes to realize is a book.

Though reading is unheard of in Sefia's world, she slowly learns, unearthing the book's closely guarded secrets, which may be the key to Nin's disappearance and discovering what really happened the day her father was killed. With no time to lose, and the unexpected help of swashbuckling pirates and an enigmatic stranger, Sefia sets out on a dangerous journey to rescue her aunt, using the book as her guide. In the end, she discovers what the book had been trying to tell her all along: Nothing is as it seems, and the end of her story is only the beginning.
If you follow me on Twitter, you will know that The Sea of Ink and Gold series by Traci Chee (The Reader + The Speaker) is one of my favorite series, but I hardly ever seem to talk about it on my blog so I decided to include it in this post.
I could write you a 50-page essay on what I love about this series, but let's talk about my most favorite thing, and I'm not sure how to grasp that in a few words so I'll just explain it: in each book you follow a few different story-lines. While reading these you have no idea how they're going to fit together, but when you get to the end and figure it out, it's mind blowing. Traci Chee does such amazing things in her books, and also adds so many easter eggs and foreshadowings (is that even a word? Oh well, let's just go with it) and it's just phenomenal. This is that type of book you can read over and over again, and you'll still find new things. And I don't get how she does it.
What are some of the books you love but don't talk about as much?