Hi everyone! A few months ago I binge watched a lot of '5 star prediciton' videos on Youtube, where people look at their TBR and try to predict what books they're going to give five stars. I loved this concept and I wanted to do it myself, but I completely forgot about it until a friend recommended me I'd do it.
This was actually a lot harder than I thought it'd be because, while I'm quite easy to please when it comes to books (I tend to like a lot of them as long as there are no problematic elements), it's pretty rare that I give a book a 5 star rating. But I'm pretty sure that these are the books that have the highest chance of being 5 star books for me.
The Girl and the Grove by Eric Smith
Teenager Leila's life is full of challenges. From bouncing around the foster care system to living with seasonal affective disorder, she's never had an easy road. Leila keeps herself busy with her passion for environmental advocacy, monitoring the Urban Ecovists message board and joining a local environmental club with her best friend Sarika. And now that Leila has finally been adopted, she dares to hope her life will improve.

But the voices in Leila's head are growing louder by the day. Ignoring them isn't working anymore. Something calls out to her from the grove at Fairmount Park.
I'm expecting this to be a five star read because everything about it sounds absolutely amazing. A talking grove, an adopted mc with seasonal affective disorder, environmental advocacy, EVERYTHING. I've also been following Eric Smith, the author, on Twitter for a while and he's just an overall awesome person. I'm lucky enough to have an e-ARC of this, and I'm hoping I'll be able to read it (and fall in love with it) very soon.
Want by Cindy Pon
Jason Zhou survives in a divided society where the elite use their wealth to buy longer lives. The rich wear special suits that protect them from the pollution and viruses that plague the city, while those without suffer illness and early deaths. Frustrated by his city's corruption and still grieving the loss of his mother, who died as a result of it, Zhou is determined to change things, no matter the cost.

With the help of his friends, Zhou infiltrates the lives of the wealthy in hopes of destroying the international Jin Corporation from within. Jin Corp not only manufactures the special suits the rich rely on, but they may also be manufacturing the pollution that makes them necessary.

Yet the deeper Zhou delves into this new world of excess and wealth, the more muddled his plans become. And against his better judgment, Zhou finds himself falling for Daiyu, the daughter of Jin Corp's CEO. Can Zhou save his city without compromising who he is or destroying his own heart?
Want by Cindy Pon is one of those books my friends have recommended to me countless times. They all say that it's absolutely amazing, and that it was one of their favorite reads of 2017. I trust their opinions, so I'm fairly sure I'm going to adore it. I just haven't picked it up yet, for some reason? I've really wanted to, but… it seemed like there was always something I needed to finish first. But this is going to be read soon! It has to!
No More Heroes by Michelle Kan
The peaceful nights are kept under the clandestine and watchful eye of young, gifted vigilantes the world over. But a sudden rash of vigilante deaths heralds the arrival of a new and unfamiliar enemy – one whose motive is as unclear as their identity. Someone or something seems determined to disturb the peace, and they're going straight for the watchmen to do it. In a city where those who are gifted make up their own rules, who will step forward when the threat of a swift end is real and there stands so little to gain?

No More Heroes is an urban fantasy action/adventure novel about young, would-be heroes who get more than they bargained for when they delve deeper into a world they never knew they were a part of. Featuring a diverse cast of players, discord, a mystery to be solved, plenty of literary action and high-stakes battles, No More Heroes is a story about self-belief and camaraderie, persistence in the face of trials, and what it means to be the best version of yourself.
No More Heroes has been on my TBR for quite a while now, and has also been on a couple of my monthly TBRs, and I can't believe I haven't picked it up yet. Everything about it sounds amazing, from the ensemble cast of gifted vigilantes, to the fact that one (or some?) of the characters deal with anxiety. I've kind of already fallen in love with this book.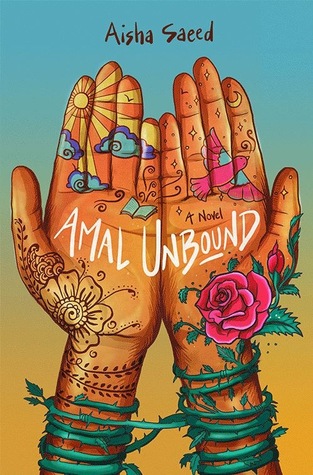 Amal Unbound by Aisha Saeed
Life is quiet and ordinary in Amal's Pakistani village, but she had no complaints, and besides, she's busy pursuing her dream of becoming a teacher one day. Her dreams are temporarily dashed when–as the eldest daughter–she must stay home from school to take care of her siblings. Amal is upset, but she doesn't lose hope and finds ways to continue learning. Then the unimaginable happens–after an accidental run-in with the son of her village's corrupt landlord, Amal must work as his family's servant to pay off her own family's debt.

Life at the opulent Khan estate is full of heartbreak and struggle for Amal–especially when she inadvertently makes an enemy of a girl named Nabila. Most troubling, though, is Amal's growing awareness of the Khans' nefarious dealings. When it becomes clear just how far they will go to protect their interests, Amal realizes she will have to find a way to work with others if they are ever to exact change in a cruel status quo, and if Amal is ever to achieve her dreams.
Okay, so I *might* be basing my potential 5 star rating of this book mostly on the cover, because isn't it gorgeous?? The synopsis makes this book sound beautifully heart-wrenching, and I've heard amazing things about Aisha Saeed's previous book, Written in the Stars. I have a feeling that this book is going to make me cry a lot, and that it'll stay with me for a very long time.
Ivy Aberdeen's Letter to the World by Ashley Herring Blake
When a tornado rips through town, twelve-year-old Ivy Aberdeen's house is destroyed and her family of five is displaced. Ivy feels invisible and ignored in the aftermath of the storm–and what's worse, her notebook filled with secret drawings of girls holding hands has gone missing.

Mysteriously, Ivy's drawings begin to reappear in her locker with notes from someone telling her to open up about her identity. Ivy thinks–and hopes–that this someone might be her classmate, another girl for whom Ivy has begun to develop a crush. Will Ivy find the strength and courage to follow her true feelings?
This book is definitely one of my most anticipated releases of the year. It's an f/f middle grade written by one of my favorite authors, so how can I not expect to love it?? Also, I got an email from bookdepository a few days ago that it's on it's way and I'm too excited about it. It might be here this week. I can't wait!!!!
So, those were some of the books I'm expecting to give 5 star ratings to! What are some of the books on your TBR that you're expecting to absolutely adore?