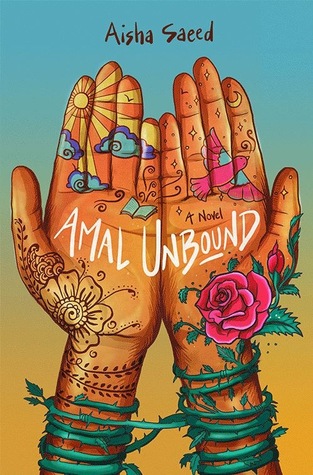 Title: Amal Unbound
Author: Aisha Saeed
Genres: Middle Grade
Goodreads
Life is quiet and ordinary in Amal's Pakistani village, but she had no complaints, and besides, she's busy pursuing her dream of becoming a teacher one day. Her dreams are temporarily dashed when–as the eldest daughter–she must stay home from school to take care of her siblings. Amal is upset, but she doesn't lose hope and finds ways to continue learning. Then the unimaginable happens–after an accidental run-in with the son of her village's corrupt landlord, Amal must work as his family's servant to pay off her own family's debt.

Life at the opulent Khan estate is full of heartbreak and struggle for Amal–especially when she inadvertently makes an enemy of a girl named Nabila. Most troubling, though, is Amal's growing awareness of the Khans' nefarious dealings. When it becomes clear just how far they will go to protect their interests, Amal realizes she will have to find a way to work with others if they are ever to exact change in a cruel status quo, and if Amal is ever to achieve her dreams.
Thank you to the publisher for sending me an ARC of this book. 
Amal Unbound is a powerful and heart-wrenching story, but it still manages to be hopeful and uplifting. Aisha Saeed has created a beautiful balance between showing us the real, harrowing stuff, while still having semi-happy moments in the book that keep the book from being incredibly heavy.
I ended up reading this book in one sitting, which says a lot because I almost never do that. Sure, sometimes I read a book in a day, but reading it without a single break? Never. (Okay, maybe I grabbed something to drink once, but that's it.) I couldn't put it down. I was captivated by the main character, Amal, and I wanted to know what was going to happen to her.
It's quite ridiculous how attached I felt to this character within just a few pages, but Amal was just such a great character. She's incredibly intelligent, brave and selfless, and she deserves the world. She wants to be a teacher when she grows up, and she greatly admires her own teacher, but when she is forced to give up on her dream because her life takes a turn, your heart just breaks for her.
Amal Unbound was a very touching and important read, and I'd definitely recommend it to anyone.