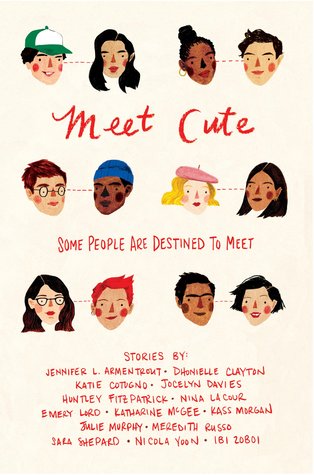 Title: Meet Cute
Authors: Various authors
Genres: Young Adult
Goodreads
Whether or not you believe in fate, or luck, or love at first sight, every romance has to start somewhere. MEET CUTE is an anthology of original short stories featuring tales of "how they first met" from some of today's most popular YA authors.

Readers will experience Nina LaCour's beautifully written piece about two Bay Area girls meeting via a cranky customer service Tweet, Sara Shepard's glossy tale about a magazine intern and a young rock star, Nicola Yoon's imaginative take on break-ups and make-ups, Katie Cotugno's story of two teens hiding out from the police at a house party, and Huntley Fitzpatrick's charming love story that begins over iced teas at a diner. There's futuristic flirting from Kass Morgan and Katharine McGee, a riveting transgender heroine from Meredith Russo, a subway missed connection moment from Jocelyn Davies, and a girl determined to get out of her small town from Ibi Zoboi. Jennifer Armentrout writes a sweet story about finding love from a missing library book, Emery Lord has a heartwarming and funny tale of two girls stuck in an airport, Dhonielle Clayton takes a thoughtful, speculate approach to pre-destined love, and Julie Murphy dreams up a fun twist on reality dating show contestants.

This incredibly talented group of authors brings us a collection of stories that are at turns romantic and witty, epic and everyday, heartbreaking and real.
I've never read an anthology before. Not that I've never tried, (I've actually started a few but never ended up finishing them) they were just never really my thing. I need some time to get into a world or care about characters, and everytime I started doing that, the story would be over. And then I'd have to do it all over again, which was not a fun time for me. I think I also always compared the short stories to a full length novels, which is something I actively tried not to do this time around, and it must have worked because I actually managed to finish the book!
Of course the best way to review this anthology would be to review every single story separately, but I, being the smart person that I am, completely forgot to take notes while reading. Well, that's not really true. I didn't forget, I just thought I'd be able to remember. When will I learn? Luckily I do remember what star ratings I'd give every single story so I'll leave that down below, but I'll share some of my overall thoughts on the anthology here.
Okay, so, one of the reasons why I ended up liking this book was (and this might sound weird but oh well) because I allowed myself to DNF a few stories that I knew I wasn't going to like. For example, there was this one story (I think the one by Katie Cotugno) which writing style I knew wasn't for me, so I DNF'd it after 2 paragraphs. Why force yourself to struggle through something when you know you're not going to like it? And within the few pages that the story has, the chance of it completely changing around on you and you falling in love with it are fairly small…
I ended up DNF'ing 4 stories in total, and all of the other stories were above 3 stars for me. The stories I ended up liking the most were the one's by Nina Lacour, Katherine McGee, Dhonielle Clayton, Emery Lord, Jocelyn Davies and Kass Morgan. I also really liked Nicola Yoon's story, and thought her ability to create a whole new world in such a small number of pages was incredible, but the romance made me a tad uncomfortable. Besides that, I also really appreciated what Meredith Russo's story tried to do, but I felt like the topic was way too big to be discussed in such a small number of pages. It needed more, and felt too rushed.
I thought the stories in this anthology were incredibly cute, and they made me very happy. They were a great and an easy pick-me-up when I couldn't read much because of studying. Every time I felt incredibly stressed I'd just sit down for 20 minutes and read a story, and it'd make a really big difference. I appreciate it for that. But quite a few stories could've been better… But I'm guessing that's the case with every single anthology.
Overall, this book was fun, cute and made me happy, but it was also a bit mediocre… There are only a few stories that will stay with me for a while, but I've already forgotten most of the details from a lot of the stories. I do plan on picking up more anthologies in the future though, because this one did make me realise that it's possible for me to like them, and that's something.
Here are my single ratings:
Siege and Etiquette by Katie Cotugno – DNF
Print Shop by Nina LaCour – ★★★★★
Hourglass by Ibi Zoboi – ★★★
Click by Katharine McGee – ★★★★★
The Intern by Sara Shepard – DNF
Somewhere That's Green by Meredith Russo – ★★★
The Way We Love Here by Dhonielle Clayton – ★★★★
Oomph by Emery Lord – ★★★★★
The Dictionary of You and Me by Jennifer L. Armentrout – DNF
The Unlikely Likelihood of Falling in Love by Jocelyn Davies – ★★★★★
259 Million Miles by Kass Morgan – ★★★★
Something Real by Julie Murphy – ★★★★
Say Everything by Huntley Fitzpatrick – DNF
The Department of Dead Love by Nicola Yoon – ★★★★
Twitter • Instagram • Goodreads