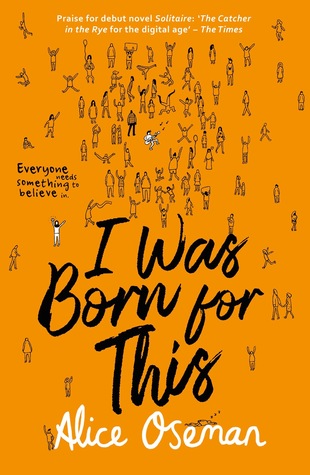 Title: I Was Born For This
Author: Alice Oseman
Genres: Young Adult contemporary
Goodreads
For Angel Rahimi, life is only about one thing: The Ark – a pop-rock trio of teenage boys who are currently taking the world by storm. Being part of The Ark's fandom has given her everything – her friendships, her dreams, her place in the world.

Jimmy Kaga-Ricci owes everything to The Ark too. He's their frontman – and playing in a band is all he's ever dreamed of doing. It's just a shame that recently everything in his life seems to have turned into a bit of a nightmare.

Because that's the problem with dreaming – eventually, inevitably, real life arrives with a wake-up call. And when Angel and Jimmy are unexpectedly thrust together, they will discover just how strange and surprising facing up to reality can be.
I Was Born For This meant the entire world to me, and more.
One of the things I appreciated most about the book was the anxiety rep. Jimmy, the main character, has anxiety and has a few panic attacks throughout the book, and everything about this was so incredibly relatable to me. From the fear of the plane crashing even though you know it's probably not going to happen, to the full on panic attacks he experiences. I had tears running down my face while reading some of his scenes because I felt understood in a way that I've never felt before, and that's so important to me.
I also adored all of the other characters in this book. It's quite rare for me to find a book in which I genuinely love every single character, but it definitely happened in this book, and every other Alice Oseman book I've read in the past, if I'm honest. She really writes the best characters.
Another thing I adored about this book was the way the author approached fandom. She really showed both the dark side of it – fans chasing Jimmy and making him feel terrified – and the amazing, wonderful side of fandom, through Angel's eyes. I also loved how she made a point of showing that the people who were fans of the band The Ark weren't just fans of them because they were all allocishet teen girls who wanted to date them, but that it was about more than that. Fandoms are often treated as this funny, immature thing by authors, and seeing an author actually understand it was very meaningful.
I also really appreciated the religious representation in this novel. Angel is Muslim and Jimmy is Christian, and both of them pray and think about their respective religions a few times in the book. I appreciated this because, while religion plays quite a big part in a lot of teenager's lives, it's often a topic that isn't explored at all in YA novels. It was very refreshing to see this.
Overall, I Was Born For This was definitely one of the best books I've read all year, and one that I want to reread many times.
(Trigger warnings: accidental outing of a trans character, panic attacks, anxiety, paranoia, alcohol abuse, blood, injury)