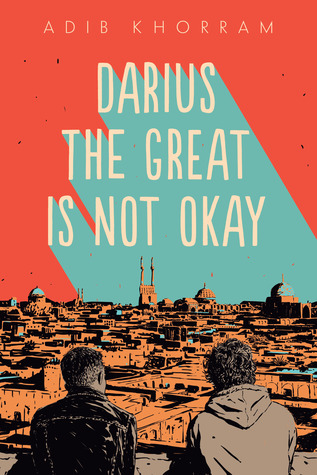 Title: Darius the Great is Not Okay
Author: Adib Khorram
Genres: Young Adult contemporary
Goodreads
Darius doesn't think he'll ever be enough, in America or in Iran. Hilarious and heartbreaking, this unforgettable debut introduces a brilliant new voice in contemporary YA.

Darius Kellner speaks better Klingon than Farsi, and he knows more about Hobbit social cues than Persian ones. He's about to take his first-ever trip to Iran, and it's pretty overwhelming–especially when he's also dealing with clinical depression, a disapproving dad, and a chronically anemic social life. In Iran, he gets to know his ailing but still formidable grandfather, his loving grandmother, and the rest of his mom's family for the first time. And he meets Sohrab, the boy next door who changes everything.

Sohrab makes sure people speak English so Darius can understand what's going on. He gets Darius an Iranian National Football Team jersey that makes him feel like a True Persian for the first time. And he understand that sometimes, best friends don't have to talk. Darius has never had a true friend before, but now he's spending his days with Sohrab playing soccer, eating rosewater ice cream, and sitting together for hours in their special place, a rooftop overlooking the Yazdi skyline.

Sohrab calls him Darioush–the original Persian version of his name–and Darius has never felt more like himself than he does now that he's Darioush to Sohrab. When it's time to go home to America, he'll have to find a way to be Darioush on his own.
Let's start off with the only negative thing I'm going to say so we can get that out of the way, which coincidentally is something that's, I'm pretty sure, of no importance to you: the formatting of the e-ARC. I'm still going to mention it here because it definitely did influence my reading-experience. The e-ARC was formatted in a way where a line in the book took up one and a half lines on my e-reader. It's a bit hard to explain, but the effect was that there were added pauses to the sentences which interrupted the flow of the book. This is one of the reasons why I really want to reread it as a final copy, because I'm sure the book would've been even better if the formatting of the e-ARC had been correct.
I really loved the way mental health was explored in this book. Darius and his dad are both depressed and take medication, and just seeing them talk about it, seeing Darius' dad remind him to take his medication… that was so incredibly special and important and meant the world to me.
The dynamics between Darius and his dad were super interesting to read about. Darius often feels like a failure compared to his dad, who, in his eyes, is The Ultimate Man, and he is convinced that his dad doesn't like him. But then a conversation happened at the end of the book that made me sob. Literally sob. I cry often at books, but it doesn't happen very often that I actually sob. Wow.
The other family dynamics in this book were incredibly interesting to read about as well. In the book, Darius visits his family in Iran for the very first time and suddenly he has this whole group of people that care about him and he doesn't really know what to do with that. He also deals with feeling not Persian enough for the first time, after always feeling too Persian when he's in America. You can see Darius grow a lot throughout his stay in Iran, and that was amazing to see.
I'm a huge sucker for food descriptions and this book was full of amazing food and yummy tea, and it was the best. This was that kind of book where I had to stop halfway through a sentence just to google a certain dish and bookmark a recipe, and I just love that.
Honestly, I could go on and on about how much I loved this book and how special it is to me, but please, just pick it up and see for yourself. I'm sure you'll enjoy it.