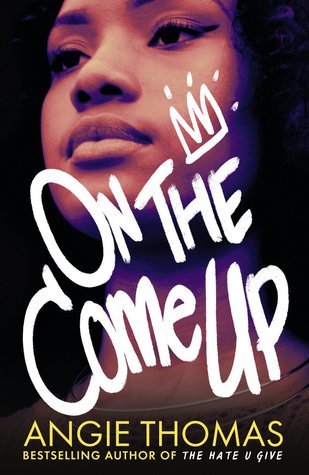 Title: On the Come Up
Author: Angie Thomas
Genres: YA Contemporary
Goodreads
Sixteen-year-old Bri wants to be one of the greatest rappers of all time. Or at least make it out of her neighborhood one day. As the daughter of an underground rap legend who died before he hit big, Bri's got big shoes to fill. But now that her mom has unexpectedly lost her job, food banks and shutoff notices are as much a part of Bri's life as beats and rhymes. With bills piling up and homelessness staring her family down, Bri no longer just wants to make it—she has to make it.

On the Come Up is Angie Thomas's homage to hip-hop, the art that sparked her passion for storytelling and continues to inspire her to this day. It is the story of fighting for your dreams, even as the odds are stacked against you; of the struggle to become who you are and not who everyone expects you to be; and of the desperate realities of poor and working-class black families.
Thank you so much to Walker for sending me an ARC of this book. The fact that I got this book for free does not influence my opinion of the book whatsoever. 
I, like probably everyone I know, absolutely adored The Hate U Give, Angie Thomas' incredibly successful and impactful debut. When On The Come Up was announced it was immediately added to my TBR, and I was positively thrilled when I was able to receive an ARC of this book from Walker YA. And I started reading it the second I got it in the mail.
Obviously, this book has a lot to live up to. Having The Hate U Give, a book that has now been a #1 NYT bestseller for, what? 70 weeks? (Correction, it's actually 99. NINETY-FREAKING-NINE), as your big book sibling can't be easy, but this book is an incredibly goodread and definitely stands on its own two feet. I don't want to compare the book itself to THUG because both are incredibly important stories that you should definitely pick up, and they're both very unique.
Angie Thomas' writing is, once again, absolutely amazing. It's very easy to fall into her words and get lost in the story, not noticing that you've been reading for hours until you look at the clock. The dialogue is sharp and laugh-out-loud funny, the lyrics to Bri's raps are incredible and very smart, and there wasn't a single page which bored me.
The lyrics to Bri's raps is one of the reasons why I'd definitely want to reread this book as an audiobook because, if done well, that could be AMAZING.
One of the things I loved most about this book were the characters. Bri was one of the best main characters I had the pleasure of reading about in quite a while. She's super talented, impulsive and funny. I also adored all of the side characters; Bri's mom, who is a recovering drug addict and is doing her best to take care of her family, Bri's two best friends (one of whom she might have a crush on), her aunt Poo, who is in a gang and is trying to be Bri's manager, etc. There's quite a few side characters in this book, but they all feel super real and three-dimensional, and it's very easy to love and root for every single one of them. And as someone who usually starts feeling a little lost when there's more than 3 characters in a book, I thought this was incredibly impressive.
The plot itself is really great as well. It deals with a lot of important things that we don't see discussed a lot in (YA) books (like gangs, the rap-scene, and poverty) and certainly not in the honest and raw way that Angie Thomas approached these topics. This book also balances a few different story lines very very well, so while there's quite a lot going on in this book, it never feels like it's too much.
I feel like this review was just me repeating "THIS WAS SO GOOD" over and over again but… THIS BOOK WAS SO GOOD! I feel like this book should be on everyone's "required reading for 2019"-lists, so please pick it up once it comes out, because it's definitely worth the read. You won't be disappointed.