Hi everyone! Today, I'm very excited to be able to participate in the blog tour for Small Town Hearts, hosted by my wonderful friend Lili from Utopia State of Mind! I was super excited when Lili invited me to the blog tour because Small Town Hearts was one of my most anticipated releases. This book hits so many of my buzz words! 1) the main character is bi, and 2) it has a café setting and lots of food related goodness , 3) it's set in a small beach-side town, etc. And, after finishing the book this weekend, I can safely tell you that it's just as cute as I expected it to be!
Instead of doing a full review of the book, I chose to make playlists instead. I absolutely adore music, and finding the right songs to go with the book is so much fun so… I might've gone a little overboard and ended up making 5 different playlists. Oops. I truly hope you'll enjoy them – and the book – just as much as I did!
Babe's Playlist: Throughout the book Babe, the main character, goes through some changes. She's really in that transitional period between becoming a 'real adult' and being a kid in high school, and she's also having some problems with her best childhood friends which makes reminisce about the past. Babe is also someone who adores the summer, so for Babe's playlist I chose to focus most on songs about growing up, finding/losing yourself and summer-y songs.
Levi's Playlist: Levi is the love interest in Small Town Hearts and I loved him so, so much! He's so soft and cute and just, AH. He's described as having beautiful blue eyes in the book, so of course I had to add songs about that, as well as songs about falling in love, figuring yourself out and summer.
Breakup Playlist: Throughout the book the main character, Babe, experiences break-ups in two different ways: with her ex Elodie, who is back for the summer after dumping Babe a year ago, and a platonic break up with her best childhood friends. All of these songs are wonderfully sad, and I love them very much.
Busy's Playlist: One of my favorite parts of the book was definitely the café Babe works at. It was so lovely to read about her working, making delicious things and her spending time with Lucy, her coworker, and Tom, her boss. I thought it might be a fun idea to make a playlist full of very relaxing songs you could put on in the background of the café. And of course I still had to go with the 'beach town' theme by including songs like Brielle (all about a beach town) and Lighthouse (which, well… speaks for itself).
Summer Romance Playlist: The main focus of this book is a summer romance, so I couldn't not make a summer romance playlist! This playlist starts of with a lot of fun, upbeat love songs that remind me a lot of summer, but it ends with a few sadder songs because, with a summer romance, there's always a chance of having to say goodbye in the end.
More about the book: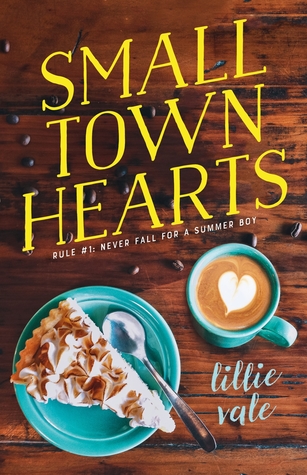 Title: Small Town Hearts
Author: Lillie Vale
Genres: young adult contemporary
Goodreads – Amazon – Bookdepository
Rule #1 – Never fall for a summer boy. 

Fresh out of high school, Babe Vogel should be thrilled to have the whole summer at her fingertips. She loves living in her lighthouse home in the sleepy Maine beach town of Oar's Rest and being a barista at the Busy Bean, but she's totally freaking out about how her life will change when her two best friends go to college in the fall. And when a reckless kiss causes all three of them to break up, she may lose them a lot sooner. On top of that, her ex-girlfriend is back in town, bringing with her a slew of memories, both good and bad.

And then there's Levi Keller, the cute artist who's spending all his free time at the coffee shop where she works. Levi's from out of town, and even though Babe knows better than to fall for a tourist who will leave when summer ends, she can't stop herself from wanting to know him. Can Babe keep her distance, or will she break the one rule she's always had – to never fall for a summer boy?
About the author
Lillie Vale, upon discovering she could not be one of Santa's elves or attend Hogwarts, decided to become a writer to create a little magic of her own. Enjoying the romantic and eerie in equal measure, she's probably always writing a book where the main characters kiss or kill. Born in Mumbai, she has lived in many U.S. states, and now resides in an Indiana college town where the corn whispers and no one has a clue that she is actually the long-lost caps lock queen. She is the author of Small Town Hearts.
This absolutely gorgeous banner was designed by the incredibly talented Mana! Please check out her portfolio here.
The rest of the tour:
march 11
lily (sprinkles of dreams) – guest post
marie (drizzle & hurricane books) – interview
eloise (eloise writes) – review + aesthetic
march 12
nandini (unputdownable books) – creative
carolina (santana reads) – review + character aesthetics
danielle (bookish in texas) – interview
laura (green tea & paperbacks) – creative
march 13
sofia (bookish wandress) – review + a playlist
ashley (bubbly booknerd) – creative
lauren (bookmark lit) – review + creative
victoria (the contented reader) – interview + review
camillea (camillea reads) – review
march 14
morgan (the bookish beagle) – review + creative
fanna (fannatality) review + creative
syndney (sydneys.books) – creative bookstagram
fadwa (word wonders) – review
mishma (chasing faerytales) – review + creative
lili (utopia state of mind) – guest post
march 15
tiffany (read by tiffany) – creative
haley (fangirl fury) – review + creative
romie (romie we deserve love) – creative
simant (flipping through the pages) – review + creative