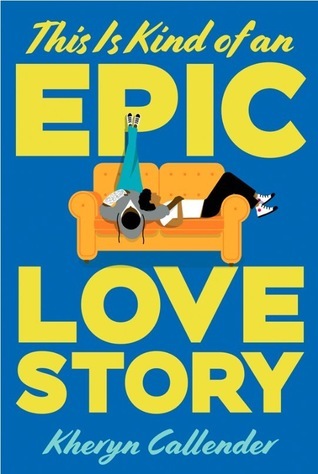 Title: The Is Kind Of an Epic Love Story
Author: Kheryn Callender
Genres: Young Adult contemporary
Goodreads
A fresh, charming rom-com perfect for fans of Simon vs. the Homo Sapiens Agenda and Boy Meets Boy about Nathan Bird, who has sworn off happy endings but is sorely tested when his former best friend, Ollie, moves back to town.

Nathan Bird doesn't believe in happy endings.

Although he's the ultimate film buff and an aspiring screenwriter, Nate's seen the demise of too many relationships to believe that happy endings exist in real life.

Playing it safe to avoid a broken heart has been his MO ever since his father died and left his mom to unravel—but this strategy is not without fault. His best-friend-turned-girlfriend-turned-best-friend-again, Florence, is set on making sure Nate finds someone else. And in a twist that is rom-com-worthy, someone does come along: Oliver James Hernández, his childhood best friend.

After a painful mix-up when they were little, Nate finally has the chance to tell Ollie the truth about his feelings. But can Nate find the courage to pursue his own happily ever after?
I have quite a lot of complicated feelings about this one. I liked it, I liked the writing style and I definitely looked forward to picking this book up every time I got the chance, but I just didn't *love* it. I definitely didn't love this as much as I expected to, because I definitely went into it expecting it to be a new favorite.
The characters and their relationships felt incredibly real and were super messy, which I loved on the one hand, but also started to annoy me a bit after some time. Especially the main character. He kept messing up and it started to get really hard to root for him, because we mostly saw his not-so-great side. He was pretty pessimistic and tended to run away from his problems, which I could kind of relate to, but it just… it wasn't a lot of fun for me to read about. And I adored the LI and thought he deserved better, so while I did like the relationship and I'm a sucker for the best-friends-to-lovers-trope, I had a hard time cheering them on. Lees verder →