Hi everyone! Today, I'm going to share with you the five best 2018 releases that I've read so far. I didn't think that making this post would be too hard because we're only a few months into the year, but apparently I've read quite a lot of excellent 2018 releases. I did manage to narrow it down to five books, and these are those books:
Chainbreaker (Timekeeper #2) by Tara Sim
Clock mechanic Danny Hart knows he's being watched. But by whom, or what, remains a mystery. To make matters worse, clock towers have begun falling in India, though time hasn't Stopped yet. He'd hoped after reuniting with his father and exploring his relationship with Colton, he'd have some time to settle into his new life. Instead, he's asked to investigate the attacks.

After inspecting some of the fallen Indian towers, he realizes the British occupation may be sparking more than just attacks. And as Danny and Colton unravel more secrets about their past, they find themselves on a dark and dangerous path–one from which they may never return.
I absolutely loved Timekeeper when I first read it and it quickly became one of my favorite books, but Chainbreaker was somehow even better? There were so many twists and turns, and I was at the edge of my seat the entire time while reading it. I can't believe I have to wait until 2019 for the next book, because that cliffhanger was just not okay… 
The Way You Make Me Feel by Maurene Goo 
From the author of I Believe in a Thing Called Love, a laugh-out-loud story of love, new friendships, and one unique food truck.

Clara Shin lives for pranks and disruption. When she takes one joke too far, her dad sentences her to a summer working on his food truck, the KoBra, alongside her uptight classmate Rose Carver. Not the carefree summer Clara had imagined. But maybe Rose isn't so bad. Maybe the boy named Hamlet (yes, Hamlet) crushing on her is pretty cute. Maybe Clara actually feels invested in her dad's business. What if taking this summer seriously means that Clara has to leave her old self behind?

With Maurene Goo's signature warmth and humor, The Way You Make Me Feel is a relatable story of falling in love and finding yourself in the places you'd never thou

ght to look.
After reading Goo's I Believe in a Thing Called Love last year and not loving it, I didn't expect to totally fall in love with this one. The Way You Make Me Feel is the perfect summer read, with a cute romance, great friendships, amazing character growth, lots of yummy food and a lovely father-daughter relationship. (Read my entire review here).
The Final Six by Alexandra Monir
When Leo, an Italian championship swimmer, and Naomi, a science genius from California, are two of the twenty-four teens drafted into the International Space Training Camp, their lives are forever altered. After erratic climate change has made Earth a dangerous place to live, the fate of the population rests on the shoulders of the final six who will be scouting a new planet. Intense training, global scrutiny, and cutthroat opponents are only a few of the hurdles the contestants must endure in this competition.

For Leo, the prospect of traveling to Europa—Jupiter's moon—to help resettle humankind is just the sense of purpose he's been yearning for since losing his entire family in the flooding of Rome. Naomi, after learning of a similar space mission that mysteriously failed, suspects the ISTC isn't being up front with them about what's at risk.

As the race to the final six advances, the tests get more challenging—even deadly. With pressure mounting, Naomi finds an unexpected friend in Leo, and the two grow closer with each mind-boggling experience they encounter. But it's only when the finalists become fewer and their destinies grow nearer that the two can fathom the full weight of everything at stake: the world, the stars, and their lives.
I hadn't really heard anything about The Final Six until I randomly saw it on Scribd and decided to pick up the audiobook. This book totally blew me away. It was a wild ride from start to finish, but I loved it. I loved the science and technological aspects of it, the mystery, the competition, basically everything. And I'm beyond excited for the sequel.
The Poet X by Elizabeth Acevedo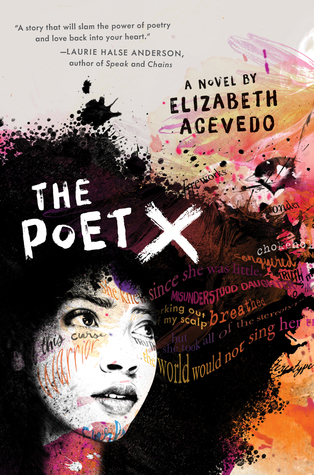 A young girl in Harlem discovers slam poetry as a way to understand her mother's religion and her own relationship to the world. Debut novel of renowned slam poet Elizabeth Acevedo.

Xiomara Batista feels unheard and unable to hide in her Harlem neighborhood. Ever since her body grew into curves, she has learned to let her fists and her fierceness do the talking.

But Xiomara has plenty she wants to say, and she pours all her frustration and passion onto the pages of a leather notebook, reciting the words to herself like prayers—especially after she catches feelings for a boy in her bio class named Aman, who her family can never know about. With Mami's determination to force her daughter to obey the laws of the church, Xiomara understands that her thoughts are best kept to herself.

So when she is invited to join her school's slam poetry club, she doesn't know how she could ever attend without her mami finding out, much less speak her words out loud. But still, she can't stop thinking about performing her poems.

Because in the face of a world that may not want to hear her, Xiomara refuses to be silent.
The Poet X is one of the powerful books I've ever read, and I honestly still think about it a lot. I also accidentally reread it somehow? I hardly ever reread books but I decided that I wanted to find a poem (the book is entirely written in verse) that I loved, and I accidentally reread the whole thing. How? But I guess that's proof of how incredibly good this book is. 
The Vanderbeekers and the Hidden Garden (The Vanderbeekers #2) by Karina Yan Glaser
Return to Harlem's "wildly entertaining" family in this funny, heartwarming sequel. When catastrophe strikes their beloved upstairs neighbors, the Vanderbeeker children set out to build the best, most magical healing garden in Harlem–in spite of a locked fence, thistles and trash, and the conflicting plans of a wealthy real estate developer.

While Isa is off at sleepaway orchestra camp, Jessie, Oliver, Hyacinth, and Laney are stuck at home in the brownstone with nothing to do but get on one another's nerves. But when catastrophe strikes their beloved upstairs neighbor, their sleepy summer transforms in an instant as the Vanderbeeker children band together to do what they do best: make a plan. They will create the most magical healing garden in all of Harlem.

In this companion to The Vanderbeekers of 141st Street, experience the warmth of a family and their community as they work together to bring a little more beauty and kindness to the world, one thwarted plan at a time
It honestly feels a bit unfair for me to be telling you that this is one of my favorite books of the year, while it doesn't come out until September… But that way you'll have enough time to pick up the first book in this series, so it's not too bad, right?
Anyway, I picked up The Vanderbeekers and the Hidden Garden after reading and loving the first book in this series last year, and I loved this one even more. This book is so lovely and so pure and I had a big smile on my face the entire time I was reading it. I also might have cried when I finished it because it was just so wonderful and my heart felt so full.
Now tell me, have you read any of these books? And what are your favorite 2018 releases so far?
Twitter • Instagram •  Goodreads